When it comes to choosing flooring for your next residential or commercial project, there are countless options, and it can be overwhelming to figure out the best flooring type for your needs. To help you make that decision, let's tackle the question of how to pick the right flooring for your space?
Flooring is a critical component of any room, and it goes a long way towards creating a specific mood and feeling in the space. You have to live with that floor for many years to come, so take the time to select the right flooring.
On the flip side, the wrong flooring can create a host of other problems that go way beyond aesthetics. A less than ideal flooring choice can lead to issues with durability and result in needing to replace the floor sooner than expected.
Select the right flooring and make a wise investment with the following tips on how to pick flooring for your space.
Take a room assessment
One of the most important things you have to do before buying your flooring is to determine what kind of everyday use it would get. This depends on who and how the space will be utilized.
To figure out what flooring is ideal for your space, ask the following questions:
How will the space be used?
There's a big difference between how a commercial space will be used versus a residential space. A conference room floor is going to see more foot traffic than a family room floor, so understanding exactly how often and how long the space will be used is critical.
How much traffic does it get?
For a high-traffic area, make sure the flooring is durable to the point of not showing wear and tear the first year (or two) you have it.
Do you have kids and pets?
Kids and pets can wreak havoc on your floors. Whether it's throwing and dropping things on the floor or your pets' water bowl overflowing, you have to be sure the flooring you choose can withstand these realities.
Where does the room lead to?
If the room goes straight to the outside — or even to the garage — dirt and debris can be brought in. The right flooring can help to prevent against needing to constantly clean it.
Understanding your flooring choices
While everyone has their preferences when it comes to flooring products, the type of flooring must fit the needs of the space. After all, if it's not suited for the room, your flooring selection may not last in the space for very long.
Wood floors
There's no doubt that hardwood is one of the most popular flooring choices. While wood is durable (to a point), it's not moisture resistant, and it's prone to dents. Additionally, traffic, debris and moisture can destroy the finish.
Floating floors
This type of flooring is ideal for kitchens and basements in homes, and in commercial projects where sound may be a factor. At Urban Surfaces, we may be partial to our waterproof, sound-reducing Sound-Tec floating floor, but with good reason. Kids, pets, moisture, sound — they're no match for Sound-Tec. Plus, its appeal (the look of wood without the expense or hassle) and easy installation makes it a top choice for our customers.
Vinyl plank
If spilled liquids and moisture are a concern, then vinyl is the choice for you. Not only are vinyl floors incredibly durable and low maintenance, but they're also affordable. If some rooms in your house tend to be a bit colder, vinyl is a great option, as it doesn't tend to hold the cold the same way as other flooring materials.
The new generation of luxury vinyl plank flooring means there is a full range of colors and styles, with something to suit every project. Plus, these floors are easy to install and maintain, making them an ideal option for both residential and commercial projects.
Laminate
If you like the look of wood but are looking to spend less, laminate is a solid alternative. Plus, it's easy to install if you want to do it yourself. Keep in mind that laminate isn't waterproof and is prone to denting.
Tile
For years, tile floors offered longevity that other types of floors couldn't compete with. However, new types of flooring such as luxury vinyl plank floors are now a viable alternative to classic tile floors.
Hands down, the biggest drawback of tile flooring is the fact that a professional is often required for installation.
Carpet
Carpet continues to be a viable option for spaces that require comfort, but it's challenging in higher traffic spaces because it can wear quickly.
What is the right flooring for you?
When you're shopping around for flooring, doing your research is key. Understanding the requirements of your space, along with your budget and key factors such as durability and ease of installation can help ensure you make the best choice.
Wondering which type of flooring would be best for your next project? We can help! Click here to request more information about what products Urban Surfaces offers or to request a flooring sample.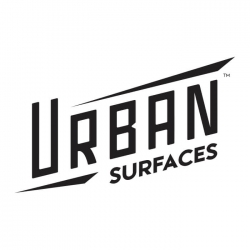 Latest posts by Urban Surfaces
(see all)