Whether you're shopping for a new home or doing a redesign, your pets are an important part of your decisions. From your flooring to your main living areas, make sure your home is comfortable and liveable for you and your pets. Here are just a few bright ideas for a pet-friendly home.
1. Pet-friendly mudroom
Mudrooms are great for families and they're especially important when you have pets. They give you a nice transition from the outside to the inside of your home, and allow you to take off your shoes and coats in an organized area.
A durable, kid- and pet-friendly flooring is absolutely necessary for a mudroom. Some of your best options for mudroom flooring include tile or a waterproof floor such as vinyl flooring, which will stand up to scratches and mud tracks, and still look great. Even if all you have is a small area near the front door rather than an actual mudroom, be sure to pick the right flooring for this space.
2. Doggy spa
The latest interior design trends include spaces for your four-legged family members. A simple doghouse out back for Fido isn't enough. One idea is to create a doggy washing and grooming space just for your pet. This gives your dog their own place to wash off, complete with a doggy bath or shower, and a pet-friendly flooring with a hard surface underneath so it's easy to clean. A doggy door to the outside and storage space for towels and doggie shampoo are other possibilities.
3. Built-in bed
Rather than a simple doggy bed set on the floor, why not custom build a lounge area just for your dog? A custom cubby space built into your cabinetry in an area like the kitchen creates a nest for your furry friend. Insert a cushion that's comfy and with a durable, easy-to-clean fabric carves out a little niche so your dog can hang out and still be a part of the action.
4. Feeding station
Another great design idea for your kitchen: Design a feeding station where your dog can walk right up and nosh on their doggy food. A low, built-in bar area with a counter with holes where doggy bowls can be dropped in is the perfect place for your pet to chow down. You can also have storage built in beside it to keep bags of dog food and treats.
5. Pet-friendly paint
When you have pets (and kids), you have to choose the right paint for your walls. Neutral colors are a good choice because they hide stains a bit better than brighter colors. A satin or high-gloss finish is ideal because flat paints are harder to clean smudges from. Textured walls on the other hand can attract fur. A non-toxic, low-VOC or no-VOC paint is always a healthy idea for humans and pets alike.
However you design your home, make sure the important details are durable and appropriate for pets. Searching for a pet-friendly floor? We can help. All of our products are considered pet-friendly flooring. Check out our vinyl flooring selections and request free samples here.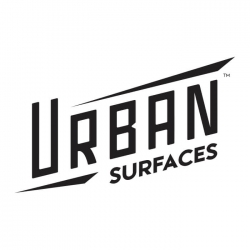 Latest posts by Urban Surfaces
(see all)