Whether you are dreaming of a modern home makeover or designing your next apartment complex, we know your busy schedule and budget play a big role in your decision. 
Flooring is no longer just a place to step but a main feature in the overall design of a space. And with the latest developments and selections in textures that are constantly evolving with style preferences, you now have more flooring options than ever to choose from. 
If you want the very best in vinyl flooring, we've already done the research for you. Sound-Tec Tile is a new and innovative vinyl flooring tile that was created with longevity, style changes and convenience in mind. Learn more below on the benefits of Sound-Tec Tile. 
1. Vinyl flooring durability and function
Because of their stress-free installation, floating floors are an excellent choice when convenience is your top priority. When comparing different types of floating floors, you will find that stone polymer composite (SPC) vinyl flooring is more durable than wood-plastic composite (WPC) vinyl flooring. 

Created with an SPC core, Sound-Tec Tile is set apart from other well-known brands that commonly use a WPC core. WPC is a wood-plastic composite. 
With SPC, which is a natural limestone polymer composite that does not absorb any water, it's 100-percent waterproof and long-lasting. The specially designed SPC core prevents spills and messes from penetrating the surface and protects against erosion.
The attached pad underlayment provides cushion to the foot for a comfortable step and minimizes noise transfer between rooms and floors. This is ideal for the upper-level apartment with children in the home. This flooring is so quiet, your downstairs neighbors will think you moved!
2. Easy to install
Floating floors are a great option for homeowners and builders alike with their no-fuss installation. Sound-Tec Tile caters to those who want to save time with its groundbreaking Rapid-Lock technology that cuts installation time up to 30 percent. Our floating floors can be installed directly over old flooring for your convenience. 
The Sound-Tec easy clip system is a power tool-free installation process — no need for messy grout or glue with Rapid-Lock technology. Keep your space free of harsh smells and chemicals during installation.
3. Countless design possibilities
Available in a variety of popular colors, our 12-inch by 24-inch Sound-Tec tiles are intended to meet your design needs and give your space appeal. The unique shape of the tiles set them apart from your standard tile and makes them more than just flooring but an attractive centerpiece.
The Sound-Tec Tile has a 20 mil. wear layer, which is equivalent to commercial grade flooring. It's made to handle heavy traffic while keeping the integrity of the wear layer intact. Our planks are finished with our specially formulated technology, keeping it durable and stain resistant, and preserving your perfectly polished design element. Due to the specific design, the bottom layer will not show any imperfections from the flooring underneath. 
All Sound-Tec color components are made to fit any design style and can easily work with timeless and contemporary spaces. A current consumer favorite is the Sound-Tec tile floating floor available in our Meteor style, which is a rustic spin on classic earth tones. The beveled look adds a unique twist on standard flooring and provides an incomparable textured look to the room. Meteor can be styled as dark and moody or can easily be brightened up with pops of color to add a farmhouse touch.
Feeling inspired?
Achieving a quality design for your next project is possible with the right choice in flooring. Sound-Tec Tiles offer affordability and sustainability, while providing the style and charm you desire. With Sound-Tec Tile, it's as easy as a snap and click. Request free samples of our flooring products here.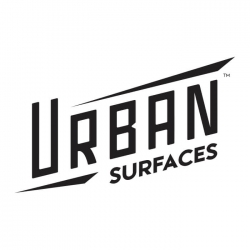 Latest posts by Urban Surfaces
(see all)