3 Tips for Choosing Rugs and Finding That Perfect One
Luxury Vinyl floors are the perfect option for any space in your home, but what better than the perfect rug to tie it all together! We're going to give you three handy tips that will help you pick the perfect rug that can take your space from nice to absolutely stunning.
Images by 

Emma Wilson 

 

via

 Instagram @

wilsonaesthetic_
1. What kind of space are you working with?
If you are looking to find the perfect rug for your Living room, you want to invest in a quality rug because that's where the family will be gathering for the most part. A concern some people may have with hard (resilient) flooring is that the space won't feel warm enough. A rug is the perfect way to warm up any room, accentuate certain furniture pieces, and keep a cleaner space.
If you're looking for the perfect rug to tie your Dining room set all together, the material of the rug will take priority. Dinners can sometimes be messy and you don't want a rug that will easily stain or be too difficult to clean.
In general, a good rule of thumb is to find a rug that mimics the shape of your dining table to create visual symmetry in your space. If your dining table is round, a slighter wider round rug will frame the space perfectly.
Images by 

Brianne Penney

 

 

via

 Instagram @

boneill_athome
 If your Bathroom is in need of a rug to avoid slippery floors after shows or cold surfaces in the early morning, texture is something big to consider. You want something soft with some sort of cushion for standing while keeping in mind moisture.
The fabric of the rugs in bathrooms matter especially due to the fact that moisture and water could easily become an issue. 
Bathrooms are usually the smaller rooms in one's home so it's important to choose rugs that don't overwhelm the space and make it appear smaller than it actually is
If you want to revamp your Bedroom without shelling out a ton of money on new furniture, adding a new rug can completely change the room's dynamic. This is where you can get really creative and have fun with textures, patterns, shapes, and placement!
Images by 

Rachel

 

 

via

 Instagram @

rachelkathleen13
Now, the second most important question is
2. How big is the space?
Small spaces should use rounder rugs or rectangular long rugs to elongate the space you're working with
Larger spaces have a greater selection of rugs as well as more flexibility in the shape and size.
3. What's the color scheme?
Whatever rug you choose to compliment your LVT floors, make it something fun and stay true to your aesthetic! The possibilities are endless.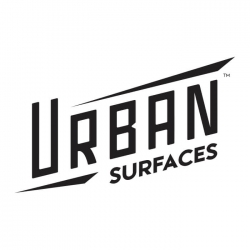 Latest posts by Urban Surfaces
(see all)