Our brand new All-In-One Stair Treads are in stock, being installed, and receiving rave reviews from Residents, Installers, and Property Owners!
Are you interested in improving the appearance of stairs in your business or rental property? Keep reading to find out why our new WPC Stair Treads are the product you have been waiting for.
Why Property Owners Invest In These Stair Treads
We've received glowing feedback from property owners and property management firms. They are excited about our WPC Stair Treads because:
Long term durability: The stair treads provide commercial-grade durability, with resistance to dents and scratches. Every tread has a wear layer that can handle the high-traffic demands of a commercial setting. The appearance of your stairs will hold up and remain effective for at least 20 years.
Waterproof: Our stair treads are 100% waterproof, reducing the amount of damage they will accrue over time. These stair treads don't ripple, warp, or swell when exposed to liquids due to a high-quality WPC core.
Reduced expenses: The ease of installation means it costs substantially less than other options, and there is no retrofitting required. Your finished look will be clean, consistent, and seamless with a contemporary square edge style.

Why Installers Prefer These Stair Treads
Installers rave about how simple it is to install the All-In-One Stair Treads. They feature:
No on-site retrofitting: Our stair treads are designed to work with the vast majority of stairs no matter how they are constructed. These stair treads are made to handle various run lengths and overhang amounts, different riser materials and heights, and fully conceals the subfloor materials and seams.
One piece solution: These WPC stair treads cover the whole step with one piece. This eliminates all kinds of complexity that stairs are known for. No need to juggle additional flooring planks and moldings, and complicated mitering is a thing of the past.
Download our Stair Tread brochure for technical specifications, dimensions, and more information.

Why Residents Love These Stair Treads
Home occupants have a different set of priorities than owners and installers. Pleasing all three groups was quite a challenge previously, but no longer.
Beautiful finish: Our All-In-One Stair Treads provide a clean and seamless finish. Residents describe their living space as peaceful and luxurious when stair treads are combined with the matching flooring on the upper and lower levels.
Consistent color: This one-piece stair tread solution eliminates the collage of varying flooring plank shades and the never-quite-the-same shades of moldings.
Modern style: The square edge profile fits the contemporary style and is a desirable feature for today's market. Bullnose went out of style 20 years ago, but residents have been forced to live with it.

The All-In-One Stair Tread Is Available Now
Take a look at the impressive color selection available for our WPC Stair Treads. The 22 available colors match perfectly with the flooring from two of our most popular product lines, Sound-Tec Plus Floating Floor and Studio 12 Multi-Format Flooring.
Both Sound-Tec Plus and Studio 12 have been recently refreshed with new colors and people are already naming some favorites like 9711 Biscayne Bay and 2908 Whispering Pines.
Ask your sales rep to stop by with a sample Square Edge Stair Tread so you can see it for yourself!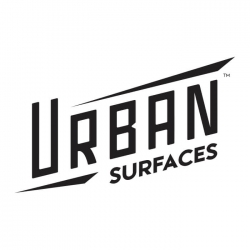 Latest posts by Urban Surfaces
(see all)