As a homeowner looking to update your flooring, you might be considering trying to test your do-it-yourself skills and handle the chore of installing your new floor yourself.
This is a big undertaking for anyone, so let's go over some DIY flooring installation tips to help you make the right decision for your situation.
Benefits of DIY Floor Installation
There are some obvious benefits to installing flooring yourself that might tempt you to take the plunge.
Cost
Money. It can be a dealbreaker in life and in many different situations. A big advantage of doing a DIY floor installation is the cost savings involved. All you have to pay for are the materials and tools you need for that particular flooring choice. Depending on the flooring, this could be many different items.
Just like when your car needs to be serviced, a large portion of the flooring cost is the manual labor involved in installing it. Without hiring an expert to lay your flooring, you just cut your cost by $1.00 to $3.00 a square foot depending on how labor-intensive the type of flooring is that you choose. Learn about installing our SPC Floating Floors.
TIPS: Shop around to make sure you get exactly what you want, but don't get in a hurry. Aim to get a balance of quality and value; if your budget is higher, check out specialty shops that have more unique offerings that might not be found in the big box stores.
Timeline
If you install your own flooring, you can also determine when you're going to work on it. You have total control over the project from start to finish — which can be a good and bad thing. If you have the desire to take on a project of this magnitude, then be sure you plan your time accordingly.
TIPS: Make sure you give yourself time to choose the flooring that you want. Also, develop a timeline that works with you and your family's happenings. Since your floor will be out of commission for a certain length of time, ensure that you plan activities accordingly.
Drawbacks of DIY Floor Installation
As with the positive aspects of installing your new floor yourself, there are other considerations to keep in mind before making the final decision.
Quality & Expertise
It's no secret that there is an ease at which professional installers do their jobs. It looks so simple and easy…surely anyone could do it, right?
Not quite.
While there are those who have an innate ability to do work like this with little training, the majority of the time, the quality of a DIY flooring project just won't be able to live up to that of someone who does professional installations.
This the case for a number of reasons:
Proper Training: Professional flooring installers tend to have years of experience, and/or work with mentors and others who have been in the trade for a long time. They are constantly honing their craft. If you're considering a more difficult flooring option, like hardwood or vinyl, think twice about going the DIY route. If you're determined to give it a go, start in a small room which offers fewer chances to go askew.
Proper Scheduling: Professional installers will be able to tell you exactly how many days the project will take for completion, and you'll be able to schedule it for a time that makes sense to you and that provides the least amount of interference in your life. Oftentimes, you can go to work and come home to a beautiful new floor.
Proper Transportation: Moving flooring from point A to point B is not an easy task when you're referring to carpet, sheet vinyl and any other flooring that requires a large vehicle. Keep in mind that you'll need someone to help you carry it as well.
Proper Tools: Tradesmen have the best equipment for installing flooring. They know — from experience — which ones are going to be needed going into a job (no last minute runs to the store), what tools are better than others in certain situations and have any other tools that are required at their disposal.
Proper Team: Laying a floor is hard work — and it's even more difficult if you don't have a crew to help you. Just remember that going forward with the project with zero help is going to lend itself to many potential pitfalls and frustrations.
TIPS: In order for your flooring to not look like a DIY weekend project, ensure you've got everything you need before you begin. That includes any training videos, tools, help from friends and anything else that will help turn your project into something to be proud of.
Length of Project
Because you most likely have a job (or jobs) to attend to, you won't have all day to work on your floor. It might be more sporadic, and therefore, take much longer to complete than if you had a crew of professionals working on it. So, if you're in a hurry — or are just anxious to get it completed — you might want to forgo doing it yourself.
TIPS: Set yourself up for success by developing a realistic timeline for your flooring project. If you tend to procrastinate, think long and hard before ripping up your existing floor. You don't want to find yourself walking on subflooring for a month.
These DIY flooring installation tips will help you achieve the quality that you want for your home. It's difficult work, but with the proper preparation and patience, you can be successful. If you've had a change of heart, click here to contact us about your installation needs.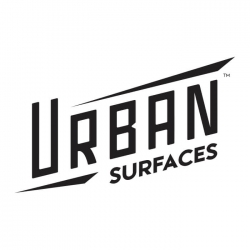 Latest posts by Urban Surfaces
(see all)