How hard is it to install hardwood flooring?
Very.
It is one of the toughest things to do, mainly because of the sanding involved. That takes time. It's noisy. And the machine kicks up a cloud of dust. If you want it done right, don't do it yourself. You should hire a seasoned pro for the job, but that won't come cheap.
That's too bad, because like apple pie, hot dogs and baseball, hardwood flooring is as American as anything, at least since the mid-1800s when factories began mass producing hardwood flooring in the U.S.
Sure, hardwood flooring has charm, but it's costly and prone to water damage
and scratches.
Luxury vinyl flooring has changed all that. It comes in styles that reflect the look of natural wood without the high cost, without the worry of scratches, and without the hassle of installing it.
That's what InstaGrip LooseLay Vinyl Flooring is all about, and it's one of the newest products in the Urban Surfaces flooring lineup.
What's the best thing about InstaGrip?
Instead of figuring out how to install the whole flooring, you can think about the shade you want in your space. InstaGrip has many shades to choose from.
How can InstaGrip work in your space? Here are some examples.
---
If you want a shade that plays up the cooler side of a warmer color, Pismo is it! You get the look of warm wood from medium and light browns, which also enrich any cooler tones in the room's furniture or decor. Use Pismo to balance out your space, and make it a lot more inviting to live in.
---
Talk about a sweet add-on to your living space! Meet Moonstone. It comes with medium-gray wood tones that vary in shade. Use this neutral gray to contrast the warm tones in your decor for a light, airy feeling.
---
Warm is always in style. Hollister proves it. Gaze at its neutral aura with red undertones, which make it easy to pair with other warm woods in your home. The light variation in planks makes the shade highly versatile, and just right for multi-unit buildings in need of a neutral palette.
---
As the lightest shade in the InstaGrip lineup, Coronado shows off hints of grey and brown. It adds a weathered look for warm style. The combo works. And if you pair it with furniture that's dark or boldly colored, it pops! You can also opt for white walls to steer the focus back to the flooring.
---
What makes this grey shade an eye-catcher? Warm, dark grain lines and knot details.
Mixing a blend of colors and textures in your decor can highlight those details, while choosing bright and warm furnishings adds visual appeal to the room.
---
Woods Cove stands out for its darker tones and rich hues. If your space takes in a lot of sunlight, it adds some contrast to a brighter interior, while the color variation in the planks adds one more layer of texture.
---
InstaGrip LooseLay Vinyl Flooring
As you can see, InstaGrip awakens the senses without overpowering.
It adds luxurious warmth to just about any living space.
It's easy to like because it installs quickly, and looks rich for years. But a word of caution. You might have a hard time deciding on what shade to pick!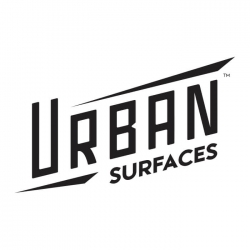 Latest posts by Urban Surfaces
(see all)