Whether you're a homeowner, designer, builder, or architect, when it comes to choosing flooring for a project, there's no shortage of options. Traditional options of hardwood, carpet, or tile continue to be used in spaces, but choosing vinyl flooring has seen a resurgence in popularity thanks to major advancements in manufacturing technology.
Those advances have also meant that the quality of the vinyl has improved exponentially. Products, such as luxury vinyl planks (LVP), offer a high-end look without the massive price tag of something like a hand scraped hardwood floor.
Today's vinyl flooring comes in a multitude of options that are modern and reflect current design trends.
Here are six reasons that choosing vinyl flooring makes sense for your next project:
#1. Easy installation
Vinyl flooring comes in tiles and planks giving you the flexibility to choose the one that will be easiest to install in your space.
Luxury vinyl planks (LVP) and luxury vinyl tile (LVT) are both glue down options. Stone polymer composite (SPC) or floating floor is available in tile and plank format as well but it is installed by clipping together.
Both glue down and floating floor options are quick to install, but a floating floor is faster than glue down. Both options are cost efficient and so you will have to choose which option best will suit your needs and preference.
Keep in mind that a great install starts with the floor underneath. Floating floors are a great option for uneven floors as it floats over imperfections. Gluedown floors require the floor to be smooth as any imperfections can telegraph through and people will see the flooring adjust to the subfloor. Floating floors adjust to the subfloor too, but not as much as gluedown LVP and LVT
#2. Versatility and Options
When it comes to choosing a vinyl floor, you have a wide variety of options. For the format, you can choose from a vast array of colors and patterns, which means you can get the look of stone or wood while enjoying the benefits of the vinyl floor. You can select flooring that gives you a specific aesthetic, like the look of a hardwood floor, in a space that wouldn't traditionally have wood.
Thanks to cutting-edge technologies and digital design, and vinyl flooring can be produced in natural looking textures that offer plenty of visual depth. Plus, vinyl floors can give you the longevity and durability you want without sacrificing the style of your design.
#3. Moisture Resistance
Nothing will ruin a shiny new hardwood floor as quickly as moisture. With more and more people wanting the look of wood in spaces that are traditionally prone to spills and have the potential for water damage, like a kitchen, vinyl offers an excellent alternative.
Vinyl floors are 100% waterproof, which makes them a perfect choice for any room. The PVC backing is made of waterproof materials which makes the flooring impervious to spills and other moisture.
#4. Durability and Low Maintenance
When it comes to flooring, vinyl is considered to be one of the most durable options. When properly installed and maintained, it can last up to 20 years! However, like anything else you buy, quality matters, and the better quality the vinyl flooring, the longer lifespan it will have.
As vinyl floors have the ability to expand and contract, they're an excellent option for high traffic areas and areas with high sun exposure. It is also quite resistant to dents and scratches, so the overall appearance of a nearly-new floor can last for many years to come.
One of the biggest appeals of vinyl flooring is that it's low maintenance. Unlike hardwood, it will never need to be re-sanded. Simple steps, like using floormats, and sweeping, vacuuming, and mopping your floor regularly are all it takes to keep your vinyl floor in top condition.
#5. Affordability
Like every other flooring material, the price range for vinyl floors ranges from low to high end. But when you start looking at flooring options, it's important to keep in mind that vinyl floors generally offer more value over their lifetime because of their water resistance and durability.
Sheet vinyl is generally the least expensive vinyl option, however, your options for look and style are usually limited. With LVP, you'll get a wider range of options — but without the price tag of wood or stone flooring.
Also, when looking at how flooring fits into your budget, you're either going to have to pay someone to do your install or make time in your schedule to do it yourself. Floating floors are more of a DIY option whereas gluedown can be DIY but most consumers choose to hire someone for this kind of project mainly because of the floor prep required by gluedown floors.
#6. Comfort
If your home has any areas that tend to be cold — especially in the winter months — vinyl is a great alternative to wood or tile as it tends to not get cold the same way other materials do. Plus, because of the texture and the way it's manufactured, vinyl floors naturally have some give to them, which means it's more comfortable when you're standing for a long period of time.
Time To Choose Vinyl Flooring
When looking at the benefits of vinyl flooring, your decisions will come down to deciding what makes the most sense for your individual space. Thanks to durability, look, and price, choosing vinyl flooring is one of the most sensible and appealing options currently on the market.
If you're considering a new project and think vinyl flooring might be right for you, visit us at Urban Surfaces, or click here to request more information or a flooring sample.
---
SEE ALSO: LVT Flooring: The MultiFamily Industry Favorite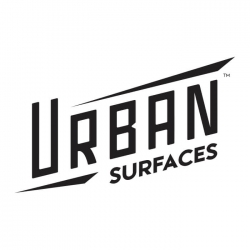 Latest posts by Urban Surfaces
(see all)