Any property manager will tell you that an unoccupied unit is a daily loss of income. The unit could be left as is. That's a gamble.
Upgrades should be made. They should be done as fast as possible and for the least amount of money. You could splash a few coats of fresh paint. But probably the most important upgrade a property manager should make is to replace the flooring.
You could install hardwood floors. People love it. But prices run high and to do it right it takes someone with super carpentry skills, which doesn't come cheap.
Vinyl flooring is a better option.
Since the pandemic has made people more aware of germs, vinyl floors have become a popular choice for its antimicrobial properties. You can imagine how people feel at the sight of dirty old carpeting.
Vinyl flooring takes less time to install, mainly because it comes in installation methods that are designed to save time, demolition and labor costs.
New Flooring Option: InstaGrip LooseLay Vinyl Floors
For example, InstaGrip flooring by Urban Surfaces features a LooseLay design. Somewhat new to the flooring scene, LooseLay offers the simplest installation system out there. No hammers or fasteners are needed to install the flooring. No need to rip out the old flooring, either. InstaGrip installs right over any hard smooth surface.
Laid exactly how it sounds, "loose lay" installations need only minimal adhesive in small rooms; for commercial applications, a full spread of adhesive. InstaGrip backing grips the subfloor to hold it firmly in place.
InstaGrip also comes styles that pay tribute to real hardwood floors, but at a more reasonable cost. You can feel the texture of real wood, while enjoying the natural variations.
InstaGrip also offers a few more benefits.
• Thick and heavy design cushions steps
• Reduces foot noise
• Resists changes in room temperature, so it keeps its shape longer
• Lasts longer thanks to a 28 mil wear layer for super durability
What do you think about this new flooring? Let us know.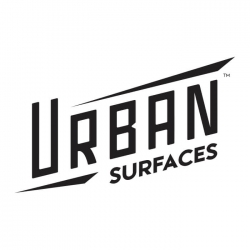 Latest posts by Urban Surfaces
(see all)