Glue Down Luxury Vinyl Floor
Waterproof | Pet-Friendly | Kid-Friendly




Polyurethane Coating
High abrasion-resistant floor coating. Provides shine and increases the lifespan of your floors.

Beveled Edge
Beyond performance, Level 7 provides an extra layer of realism through the embossing and bevel edge.

8Mil-20Mil Wear Layer
Embossed clear surface layer. Highly resistant to punctures, scratches and everyday household demands.

Advanced Bond Backing
Reduce more than 80% of most common installation faults by pairing Glue Down flooring products with Urban Surfaces' advanced glue systems.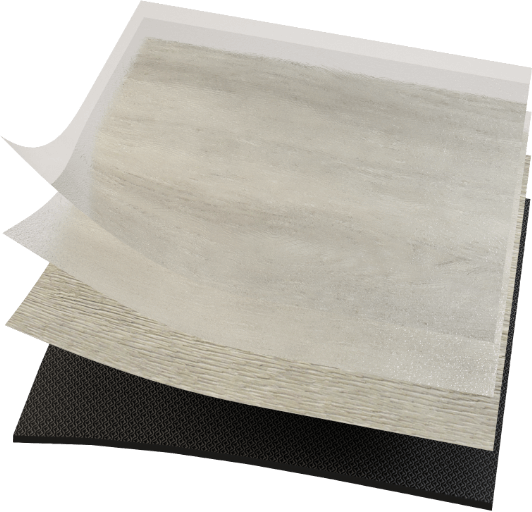 <
>
Great for the home or office, Level Seven is the top of the line in Glue Down LVP due to its combination of high-end aesthetics and commercially rated wear layer.
The solution for those looking for the look and feel of real wood floors at a fraction of the cost. Built for the budget conscious, the Main Street line delivers on value with 12 beautiful colors.
An upgrade from the Main Street line due to its wider and longer plank format, the City Heights line has a distinguished look with 6 exclusive colors.
LIFETIME
---
RESIDENTIAL
WARRANTY
15 YEAR
---
RESIDENTIAL
WARRANTY
20 YEAR
---
RESIDENTIAL
WARRANTY
Studio Glue Down Vinyl Floor
---
7" X 48"SIZE
6 MILWEAR LAYER
2 MMTHICKNESS
10 YEARSRESIDENTIAL
WARRANTY
Studio SPC Floating Floor
---
7" X 48"SIZE
12 MILWEAR LAYER
5 MMTHICKNESS
20 YEARSRESIDENTIAL
WARRANTY
Vinyl flooring can withstand water, sunlight and heavy traffic use. Glue Down products are versatile and extremely durable. High definition graphics with realistic wood tones and patterns.

Durable
Versatile and extremely durable in a variety of flooring applications

100% Waterproof
Water and other liquid substances will remain on the surface

Easy Maintenance
Hard surface floors are easy to maintain and upkeep
Level 7 can be installed in a variety of different patterns and can also be mixed with other Level 7 products to create floor experiences that catch attention and remain beautiful for years.
Crossover Colors
---
Select color choices have been made in both Sound-Tec and Glue Down LVT formats for ultimate design flexibility.




SPECIFICATIONS
RESIDENTIAL WARRANTY
LIFETIME
SPECIFICATIONS
RESIDENTIAL WARRANTY
LIFETIME
SPECIFICATIONS
RESIDENTIAL WARRANTY
15 YEARS
SPECIFICATIONS
RESIDENTIAL WARRANTY
20 YEARS
Glue Down products are not limited by just flooring applications. You are free to design spaces utilizing our products on walls, ceilings and pillars. The flexibility of Glue Down products pair with the bond of Urban Surfaces adhesives allows you to dream up your project and our products will deliver results.

VIEW ALL GLUE DOWN PRODUCTS