Waterproof | Sound Reducing | Pet-Friendly | Kid-Friendly




POLYURETHANE COATING
Abrasion-resistant surface coating protects against scuffs and scratches.

HIGH DENSITY EVAFOAM UNDERLAYMENT
Dual purpose foam underlayment knocks down sound transfer between levels of the home while also providing comfort to live on.

20MIL WEAR LAYER
Wood textured clear surface layer. Highly resistant to punctures, scratches and everyday household demands.

STONE POLYMER COMPOSITE CORE (SPC)
This floor is sturdy due to its composite core made with a 65% limestone base.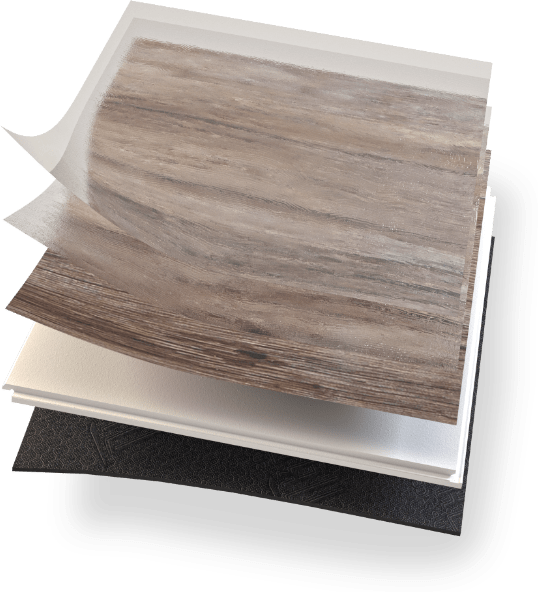 <
>
A floor that clicks together, stays together. And with these floors being waterproof, sound reducing and pet proof your home will stay together too.
Tile has never been this quick and easy. With the Rapid-Lock clip system, installation is a snap. Gone are the days of hassle and mess of old ceramic flooring. Sound-Tec Tile is a step up in every way - stunning visuals, sound reducing qualities and durable finishes.
For those that like to go big, Sound-Tec Plus is a HUGE step up with its wider and longer format. The larger plank size exhibits a more distinguished finish providing the "wow-factor" to any room.
LIFETIME
---
RESIDENTIAL WARRANTY
LIFETIME
---
RESIDENTIAL WARRANTY
LIFETIME
---
RESIDENTIAL WARRANTY
Sound-Tec's unique design for multi-level housing reduces the amount of sound being transfer in both impact generated or ambient sounds. Surpassing both IIC and STC standards.

PET FRIENDLY
Messes stay on the surface and do not penetrate or go under the floor

SOUND RESISTANT
Attached pad underlayment reduces sound transfer and provides walking comfort

INSTALLATION IS 30% FASTER
With the all new RapidLock Technology, Sound-Tech Clip is now easier to install than ever before

Installation is 30% Faster
Sound-Tec planks are DIY friendly allowing anyone to slide, drop and lock planks without the need of special tools or equipment.
Crossover Colors
---
Select color choices have been made in both Sound-Tec and Glue Down LVT formats for ultimate design flexibility.




SPECIFICATIONS
RESIDENTIAL WARRANTY
LIFETIME
SPECIFICATIONS
RESIDENTIAL WARRANTY
LIFETIME
SPECIFICATIONS
RESIDENTIAL WARRANTY
15 YEARS
SPECIFICATIONS
RESIDENTIAL WARRANTY
20 YEARS
DIFFERENT FLOOR OPTIONS WITH THE SAME FAST CLIP SYSTEM
All Sound-Tec floors feature Rapid-Lock technology. Because of the same floor thickness and clip system you can now clip Sound-Tec products with Sound-Tec Tile products. Giving you more flexibility and design options.

VIEW ALL SOUND-TEC PRODUCTS