It's there… below the surface, and you don't even notice it. You may never even see it. It's making lives better, more comfortable, and quieter. It's called the FloorSilencer, and it's the future of underlayment.
The Future is Now
Our 100% recycled-material, made-in-the-USA underlayments reduce sound transmission between floors with an impressive ΔHIIC of up to 41 when paired with our Sound-Tec flooring. Where a building's assembly may fail at mitigating noise issues, Urban Surfaces' flooring and FloorSilencer underlayments can come to the rescue. Noise complaints will be a thing of the past.
The benefits don't stop at sound reduction. FloorSilencer underlayments keep tenants comfortable and heating costs down with their insulation r-value of up to 0.73 and their compatibility with radiant heat systems.
Where moisture and mold are a concern, FloorSilencer underlayments wick away and disperse liquid and vapors to protect your subfloor while a film barrier protects your flooring.
As if you could need more reasons to ditch carpets, FloorSilencer underlayments can also provide cushion to every step your residents take, providing relief for feet and leg joints. Don't worry. The cushioning effect is balanced with enough rigidity to keep the integrity of flooring clips.
We have two different FloorSilencer underlayments to serve the needs of any project.
The ground-breaking design and technology of these rolls provide unparalleled underlayment efficiency. The thin but effective construction makes them a quick, easy, and affordable solution, perfect for ground-floor moisture protection. FloorSilencer Flex is an excellent choice for large jobs where budget is a priority.
FloorSilencer Flex is compatible with InstaGrip as well as all of our Floating Floors.
These fully featured fiberboards take the benefits of the FloorSilencer Flex and double down. The thick and dense structure of the FloorSilencer Boost enhances all of the features found in our FloorSilencer Flex while still maintaining flooring-clip integrity. FloorSilencer Boost also further reduces occupants' foot and leg fatigue while raising and smoothing subfloors.
FloorSilencer Boost is the best choice for multi-feature underlayment with affordability still in mind, and it is compatible with all of Urban Surfaces' flooring options.
No Noise is Good News
Whether you choose FloorSilencer Flex or FloorSilencer Boost, your tenants will be happier with a quieter space and you will be happier with your tenants. You can also take advantage of both, with FloorSilencer Flex on the ground floor and FloorSilencer Boost on all upper floors.
You can't afford to skip the underlayment. The multiple benefits far outweigh the small, additional cost. Put a stop to noise complaints today. Your Urban Surfaces representative is always available to help.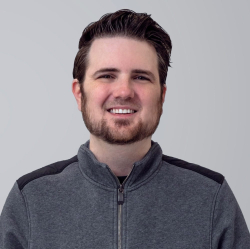 Latest posts by Adam Milecki
(see all)