This year's IBS was exciting, to say the least. 2023 will be a big year for the construction industry, and we, at Urban Surfaces, are proud to be a big part of that. We made a lot of connections, friends, and partners, but if you couldn't make it this year, don't worry. We'll still tell you all about our exciting new products and technology.
No More Noise Complaints
Say hello to the future of underlayment. Our new FloorSilencer underlayments are cutting-edge and made from 100% recycled materials. The best part? More like best parts. Not only do our new underlayments reduce sound transmission between floors with an impressive HIIC of up to 78 when paired with our Sound-Tec flooring, but they also block moisture and provide thermal insulation.
FloorSilencer Flex
The ground-breaking design and technology of these rolls provide unparalleled underlayment efficiency. The thin but effective construction makes them a quick, easy, and affordable solution. FloorSilencer Flex is a great choice for large jobs where budget is a priority.
FloorSilencer Boost
These pads take the benefits of the FloorSilencer Flex and double down. The thick and dense structure of the FloorSilencer Boost not only enhances all of the benefits found in our FloorSilencer Flex but also:
Reduces foot fatigue
Raises subfloors to close trim gaps
Smoothes over subfloor imperfections
Prevents floor decoupling
FloorSilencer Boost is the best choice for multi-feature underlayment with affordability still in mind.
Enhanced LooseLay Grip With Easy Replacement
This new non-skid coating had our IBS guests stopping in their tracks. Traction Subfloor Coating is applied easily and cures quickly, similar to an adhesive. However, Traction is not an adhesive. Once cured, our LooseLay flooring options can be installed and easily removed at will.
That's right. If a flooring plank is damaged. You can replace it in seconds by hand. If it's time for a new design, replacement is a breeze. This functionality is maintained while simultaneously gripping your flooring planks tightly, preventing horizontal movement.
Traction has the horizontal grip strength of an adhesive with none of the permanence.
Elegant and Durable Stair Risers
Our new white, waterproof stair risers are an elegant new solution that pairs perfectly with our all-in-one stair treads. Featuring a 3 mil protective wear layer and UV protection, these stair risers look great and stay that way. More information will be available soon.
All-In-One Stair Treads Take Stairs to Another Level
We have found the perfect solution for the headaches that can come from getting a staircase to look just right. Our stair treads can easily be trimmed to fit each step and are 100% waterproof with durable dent and scratch resistance.
These treads also feature a contemporary square-edge nosing as well as left and right mitered returns for staircases with exposed edges. It's time to say goodbye to retrofitting and mismatching planks or molding.
InstaGrip Tile Covers New Ground
This collection is an Urban Surfaces first with its large 36" x 36" tiles and stone designs. The large size makes it quick to install and adds to InstaGrip's already stalwart hold. If a wooden aesthetic isn't your style, then InstaGrip Tile has you covered. Stay tuned for more information about this new LooseLay format.
See You Next Year!
There's always something new and exciting in the works at Urban Surfaces. We'll definitely be showing off more at next year's IBS. Until then, you can stay up to date with us via our site, Facebook, and Instagram. If you have any questions, your Urban Surfaces representative is always available to help. Don't have a representative yet? Call 800-492-8722, and we'll introduce you.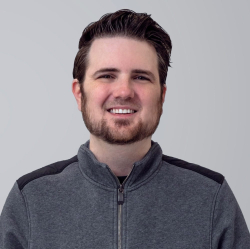 Latest posts by Adam Milecki
(see all)