Resilient flooring, including LVP (luxury vinyl plank), has seen a huge growth in popularity over the past few years. Meanwhile, carpet's popularity has dipped with very good reason. Carpet has its share of problems, and its reign of popularity is coming to an end. More and more multi-family units are being built using resilient flooring and LVP, but why?
The Ugly Truth
We've put together a list of the problems with carpet and how LVP solves them.
Bed Bugs
Sorry to gross you out right from the jump, but it's true. Carpets are susceptible to bed bug infestation, and yes, they do bite. Carpets can hide a number of other unwanted guests including carpet moths and carpet beetles. Exterminators are expensive, and DIY pest removal is unpleasant, to say the least. Why give bugs a place to hide? With LVP, there's nowhere to run.
Cleaning
While some carpets claim to be stain-resistant or easy to clean, the truth is that carpets are never as easy to clean as LVP. Often, even a thorough vacuuming isn't enough. The complicated topology of a carpet can grip messes tightly, and the thicker the shag, the easier it is for gunk and grime to hide. Rather than wasting money on upholstery cleaning, get LVP floors that can be cleaned with ease.
Air Quality and Allergies
Carpets have been known to off-gas VOCs or volatile organic compounds into the air, especially after installation. However, efforts have been made in recent years to limit the off-gassing of VOCs from carpets. Not all VOCs are harmful, but do you know exactly what's in your carpet?
Allergens (substances that can cause allergies) can be a major issue with carpets. The microscopically cavernous fibers of a carpet can collect all kinds of allergens. Dust, mold, pollens, pet dander, and roach droppings, these allergens can be kicked up into the air from any movement on a carpet. Children playing on a carpet are especially susceptible to the allergens within a carpet, due to their close proximity.
Urban Surfaces' LVP floorings are free of harmful VOCs and are easy to clean, making for better in-door air quality.
Pet Unfriendly
Pet-friendly living spaces are more important to renters than ever. Owners and managers need to accept that being pet-friendly is the way forward. However, if you've ever had a pet scratch or chew up part of a carpet, you know how frustrating it can be to attempt to repair it. "Potty accidents" can be just as bad, necessitating a carpet cleaning that may not even fully fix the problem. Just imagine what soaked into the carpet pad below.
For more tips on what your and your residents can do to make your space more pet friendly, check out this blog post and knowledge base article.
Another Carpet Bites the Dust
Sure, carpet has some advantages, but it's nothing LVP can't tackle as well.
Sound Reduction
Great strides have been made with sound-reduction via LVP and proper underlayments. Urban Surfaces has several flooring choices with built-in sound reduction including Sound-Tec, InstaGrip, Studio 12 Floating Floor, and Foundations Floating Floor. We also have two noise-reducing underlayments, FloorSilencer Boost and FloorSilencer Flex. These products have been tested by Veneklasen Associates to ensure an accurate rating of noise reduction.
Insulation and Cushion
In addition to the sound-reduction capabilities of FloorSilencer Boost and FloorSilencer Flex, these underlayments provide thermal insulation as well as a moisture protection that carpet doesn't provide. If you seek step-cushioning similar to a carpet, FloorSilencer Boost can ease foot-and-leg-joint without compromising flooring clips.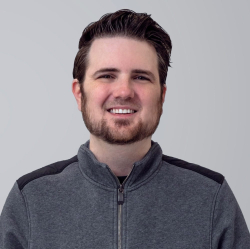 Latest posts by Adam Milecki
(see all)