Something big has arrived in the world of LooseLay, and it's called InstaGrip 28 Tile.
With the announcement of Traction Subfloor Grip Coating, we were proud to offer the best new solution for LooseLay flooring since LooseLay itself. When paired with Traction, our already speedy-to-install InstaGrip LooseLay is even easier to install or replace. With Traction, LooseLay is finally true to its name.
It isn't stopping there. The unveiling of our cutting-edge new InstaGrip 28 Tile was the talk of IBS 2023, and we're excited to announce that it's here and ready to ship!
InstaGrip 28 Tile is jaw-dropping. It's industrial beauty in grand proportions, sharing the same benefits as our InstaGrip 28 but with a premium 36″x36″ aesthetic. This tile features highly durable 5mm vinyl construction with a concrete appearance, smooth topography, and large dimensions. Just like InstaGrip 28, the FiberMax fiberglass stabilization layer in InstaGrip 28 Tile prevents expansion and contraction that could compromise a flooring installation.
InstaGrip 28 Tile resembles the professional aesthetics of semi-polished concrete without the cold, hard, and echoing downsides of real concrete. It's currently available in six beautiful designs.
The Looks
The six designs of InstaGrip 28 Tile are named after the beauty of the sky and the majestic sights found within it.
A cloud so close, you can almost touch it. The lightest in the collection, Stratus is the softest look for the strongest flooring. This design has an industrial flair and brings brilliance to an environment.
Stratus is best used in spaces where vibrance and liveliness are needed. Use it in places where people gather.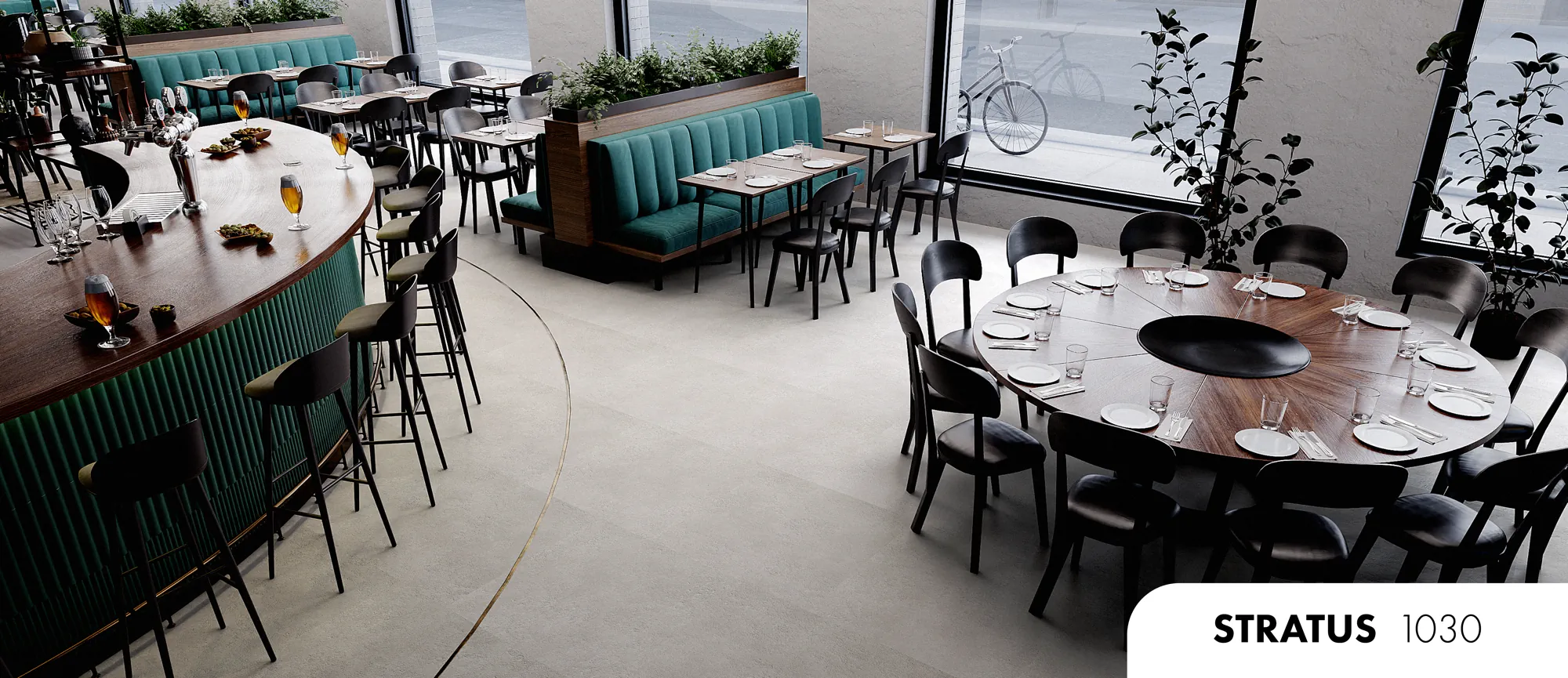 ---
Like the soothing sound of hard rain, Cloudburst brings strength and tranquility. This design closely resembles real satin-polished concrete. Cloudburst is a classic style fitting both factories and modern apartments.
Cloudburst is great for stylish but professional environments. Use it for an office space that will still feel fun.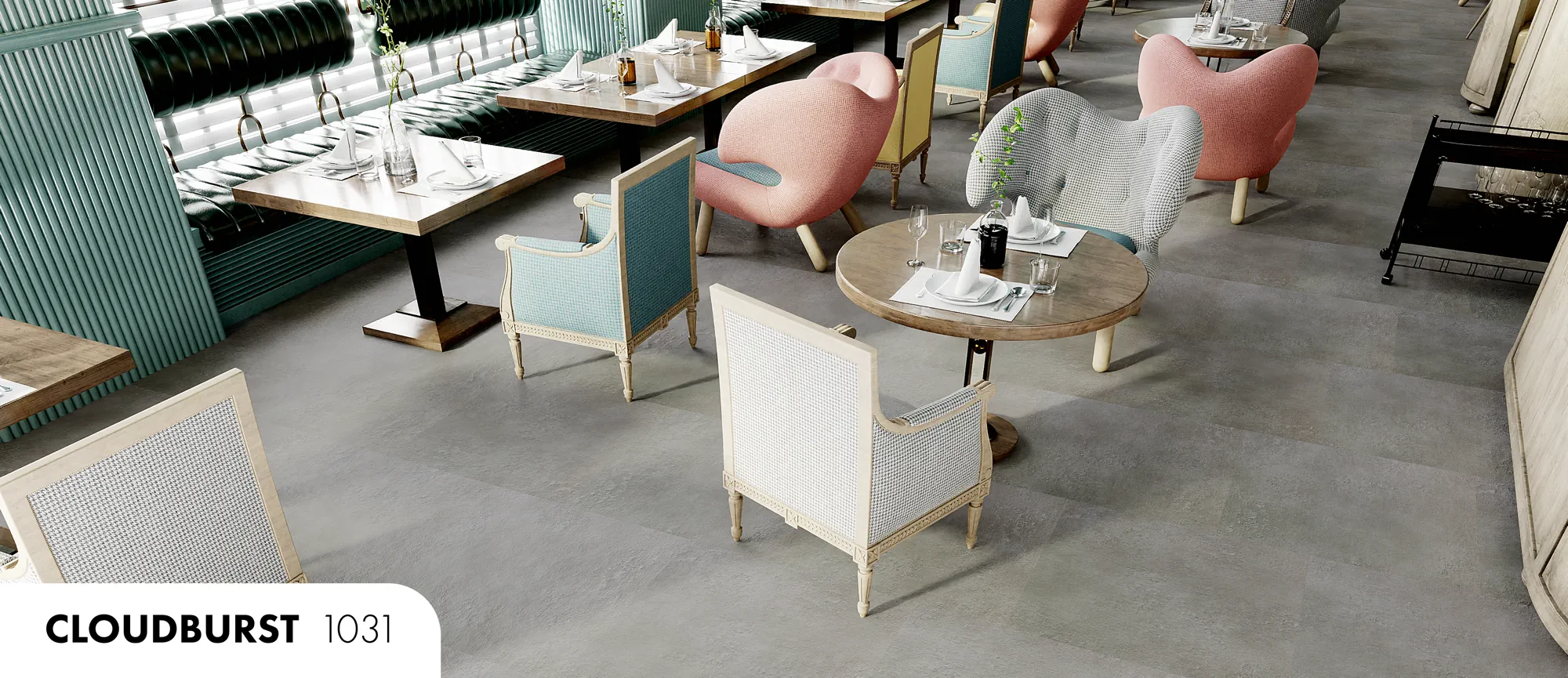 ---
Before the sun appears, the sky heralds its arrival. Aurora wields the majesty of the sky just before the scarlet sunrise. With just a touch of red, this design gives off warmth that is professional and rugged.
Aurora pairs beautifully with amber and brown hues for an earthy look. This brings homestead comfort to commercial spaces.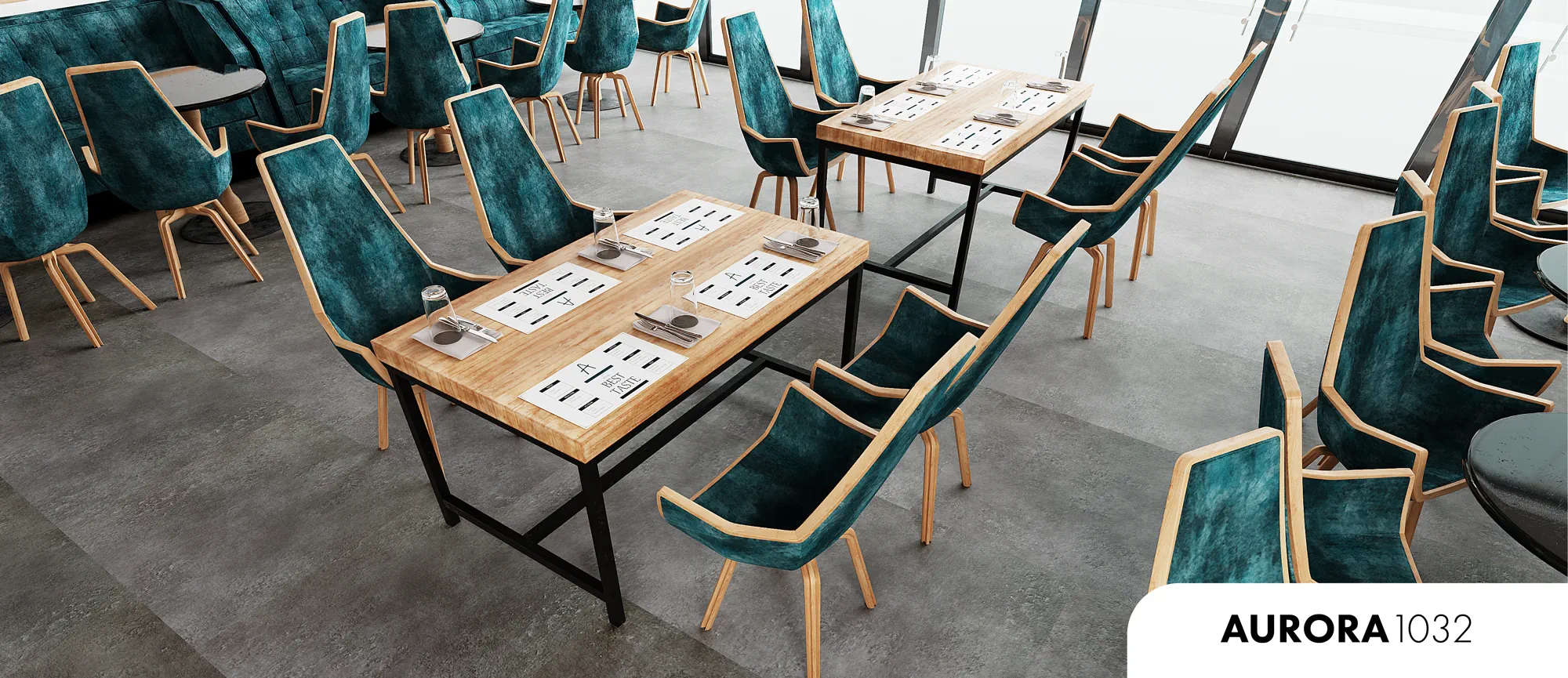 ---
With the storm comes rain. With the rain comes new life. Landfall rejuvenates all that surrounds it with a hint of blue while embodying the resilience of true stone. Landfall represents the eternal clash of water against stone.
Landfall provides a cool look that is ideal for warm environments. It's perfectly paired with sunny interiors.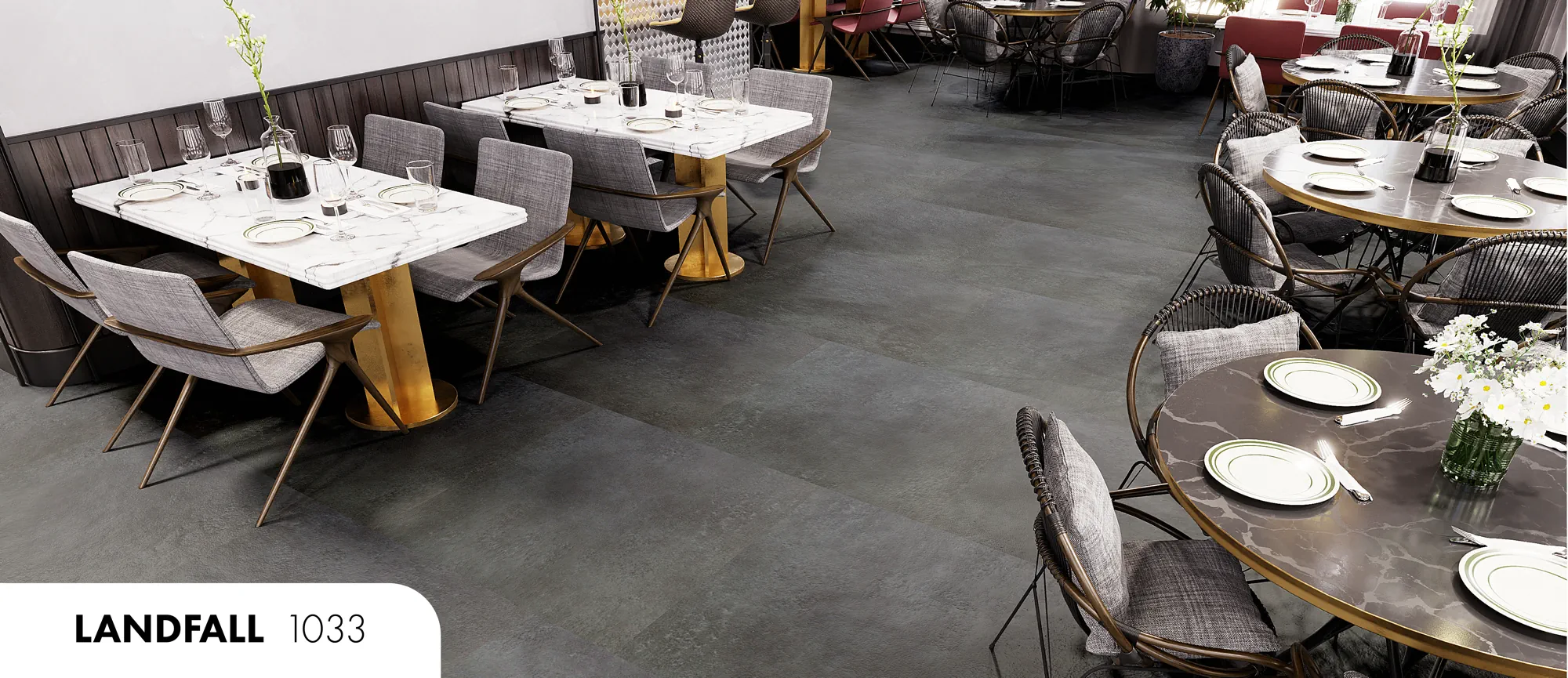 ---
The beam of a lighthouse pierces through the haze. A design as strong as its canvas, Thunderhead is a commanding presence in any environment. This design resembles smooth and rain-beaten shale lit only by the moon.
Thunderhead should be used where cozy vibes are desired. This is the flooring for an inviting space.

---
The darkest in the collection, Eclipse is a dusky and dramatic design that suggests the stark contrast of light that is soon to come. Choose Eclipse for a cosmopolitan style that is ready to do business.
Eclipse makes for a striking backdrop when placing bright furnishing and decor. It's a powerful look for sophisticated environments, such as showrooms and dining rooms.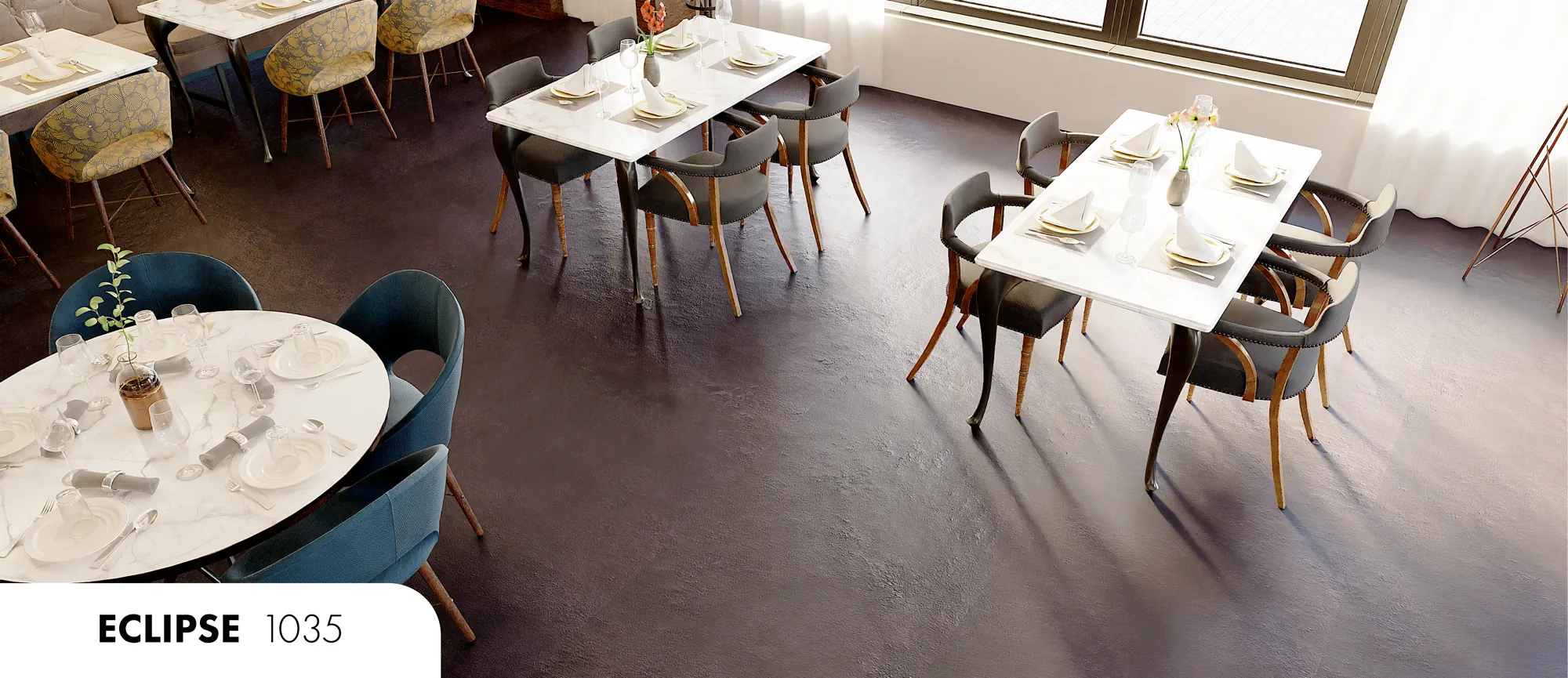 ---
It Won't Stop Here
We have more exciting things on the horizon so make sure to stay up to date. Want to know more? Your Urban Surfaces representative is ready to help.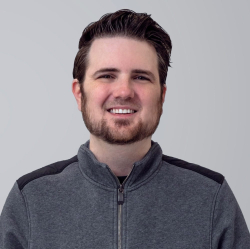 Latest posts by Adam Milecki
(see all)