Whether or not you're a pet-lover, it's true that 70% of US households own a pet. If you have a no-pet policy, you're missing out on potentially valuable residents. There is very little benefit to having a no-pet policy, and many prospective tenants are considering it a deal-breaker. Don't miss out.
The Options
Step one to making your space pet-proof is installing high-quality and durable flooring. We've compiled a list of the different kinds of flooring, and we'll break down all the pros and cons for you.
Luxury Vinyl Tile/Plank
Luxury vinyl flooring (also known as LVT or LVP) is the best option for pet-resistant flooring with affordability in mind. Urban Surfaces has several collections of LVP flooring to fit any need, and the top layer of all of our floorings is an Enhanced Polyurethane System that is waterproof and pet-mess-proof. All of Urban Surfaces' Floating Floor options contain stone-polymer cores (SPC), while our GlueDown and LooseLay floorings contain vinyl cores.
For jaws and claws, our floorings feature wear layers of up to 28 mil, and our Sound-Tec floors have an additional Ceramic Bead Scratch Armor for further damage deflection. LVT can take a beating, but if a GlueDown or LooseLay plank becomes damaged, replacement is quick, cheap, and does not need to be done by a professional.
To minimize noise complaints, we have several high-HIIC-scoring floors that will provide sound reduction between floors. Those options include Sound-Tec, Studio 12 Floating, and InstaGrip, all of which are great for reducing the high-frequency sounds of pets.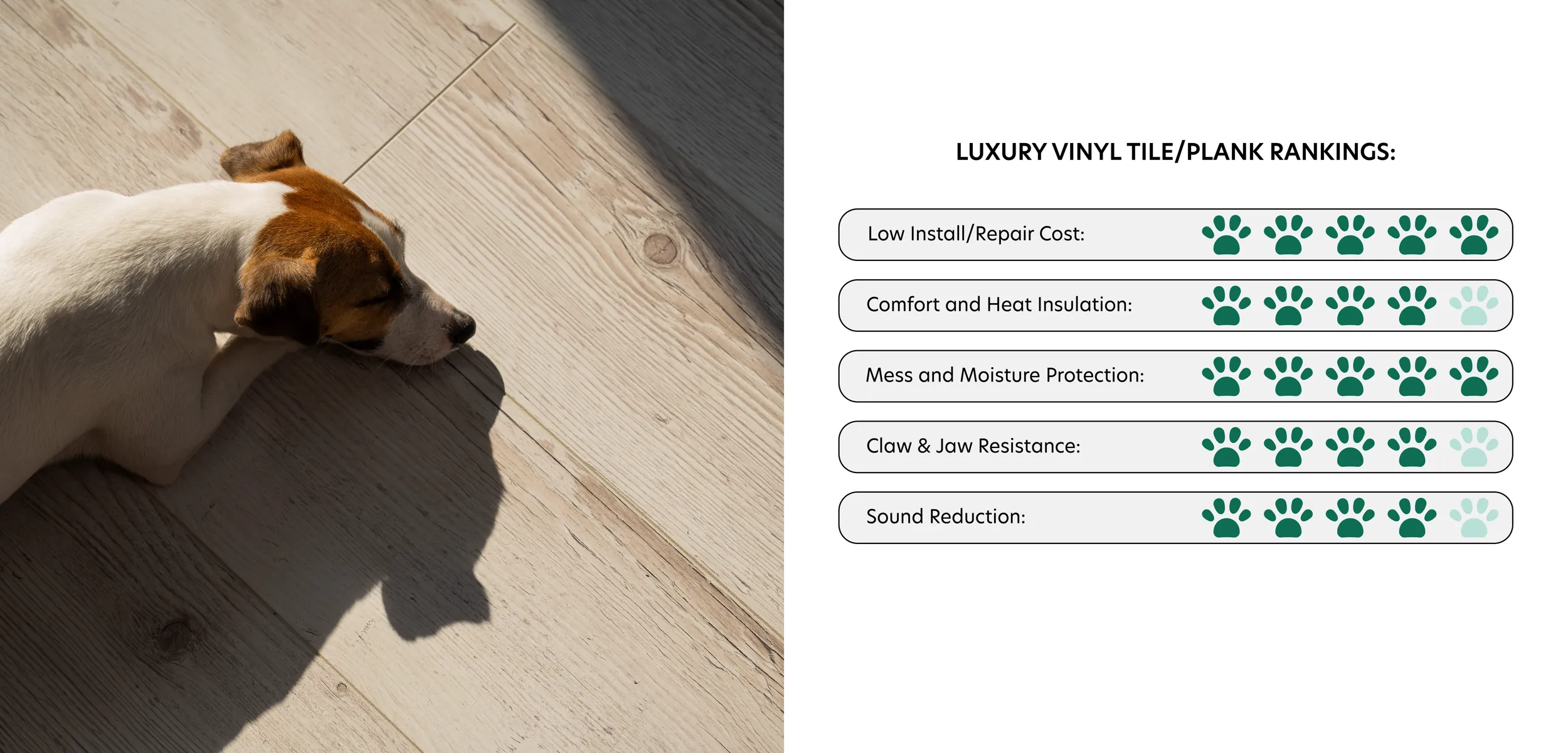 LVP With FloorSilencer
In addition to our already sound-reducing flooring, we have FloorSilencer Boost, FloorSilencer Flex, and FloorSilencer Pro underlayments that can improve noise reduction as well as provide several other benefits. If you require the cushion, sound-reduction, and heat insulation that carpet provides, Urban Surfaces recommends our FloorSilencer Boost underlayment. FloorSilencer Boost provides all of those benefits as well as moisture protection.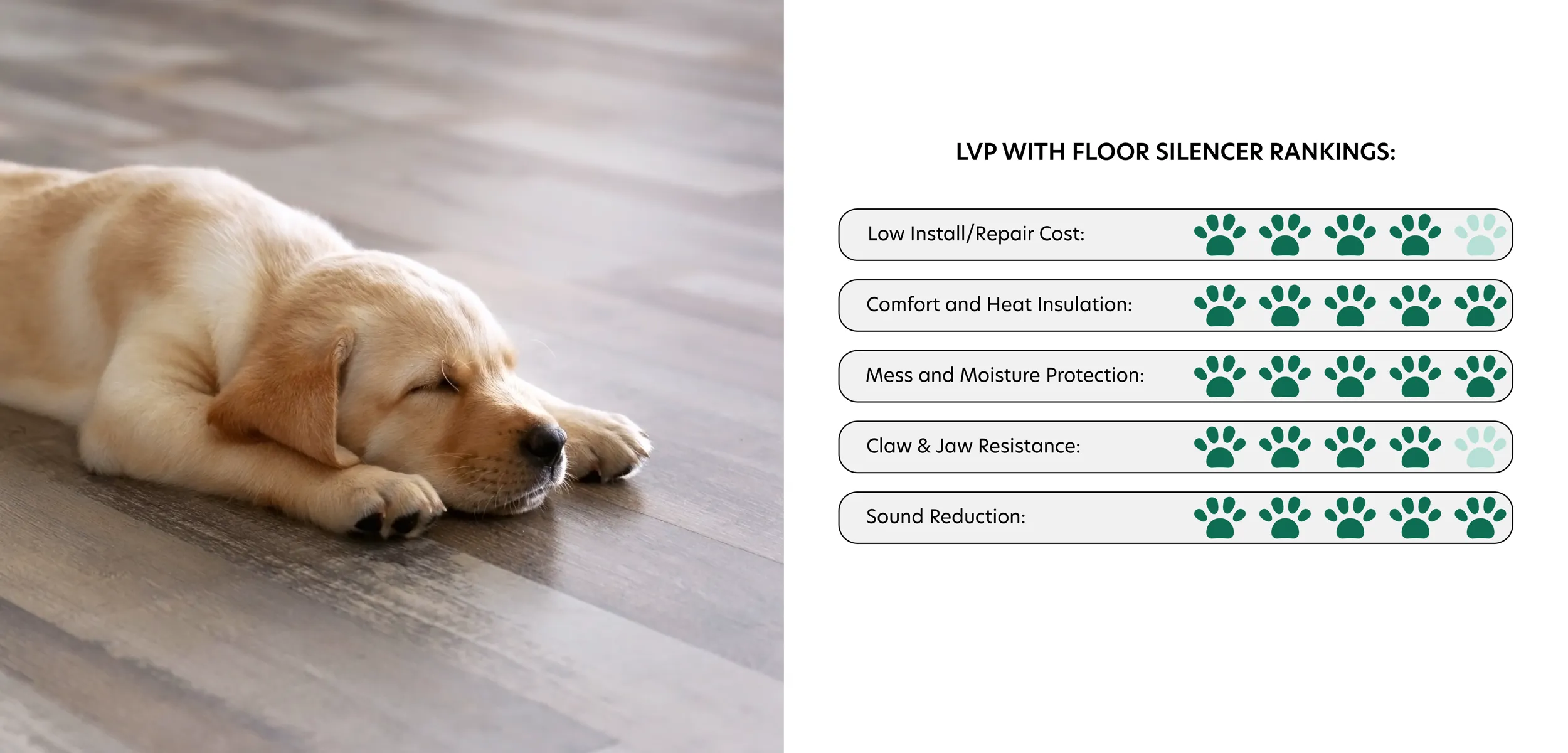 Carpet
Carpet is on the opposite side of pet-resistant flooring. It is undoubtedly the most easily damaged and stained. Carpet can be a challenge to thoroughly clean, and even when the carpet appears clean, it may be trapping dust, dander, pests, and more.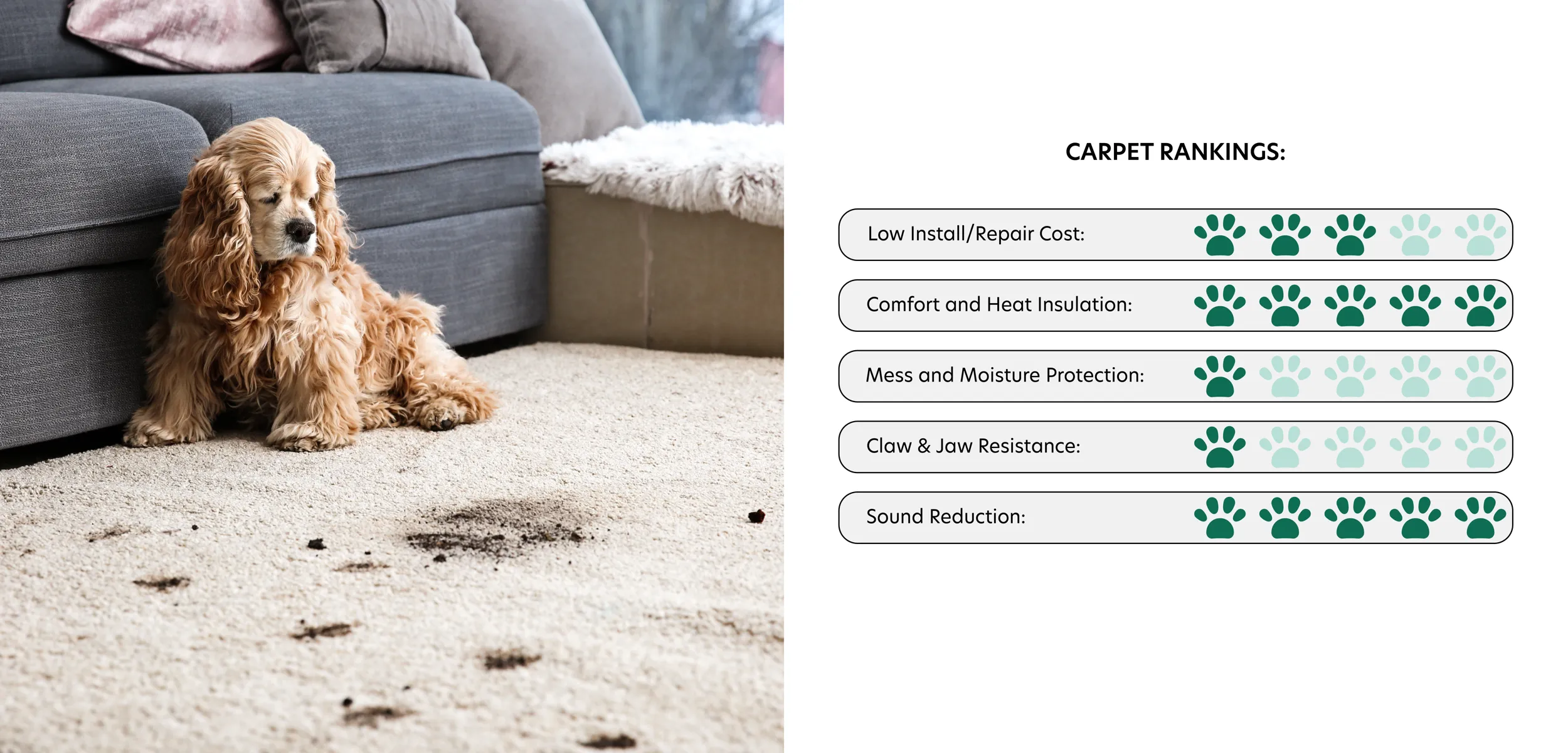 Tile
Tile made from stone, porcelain, or ceramic is a durable option for pet-resistant flooring, but the high cost can be a problem for large projects. In addition, tile can be uncomfortably cold and hard for humans and pets alike. With or without pets, tile is also a poor choice for sound reduction.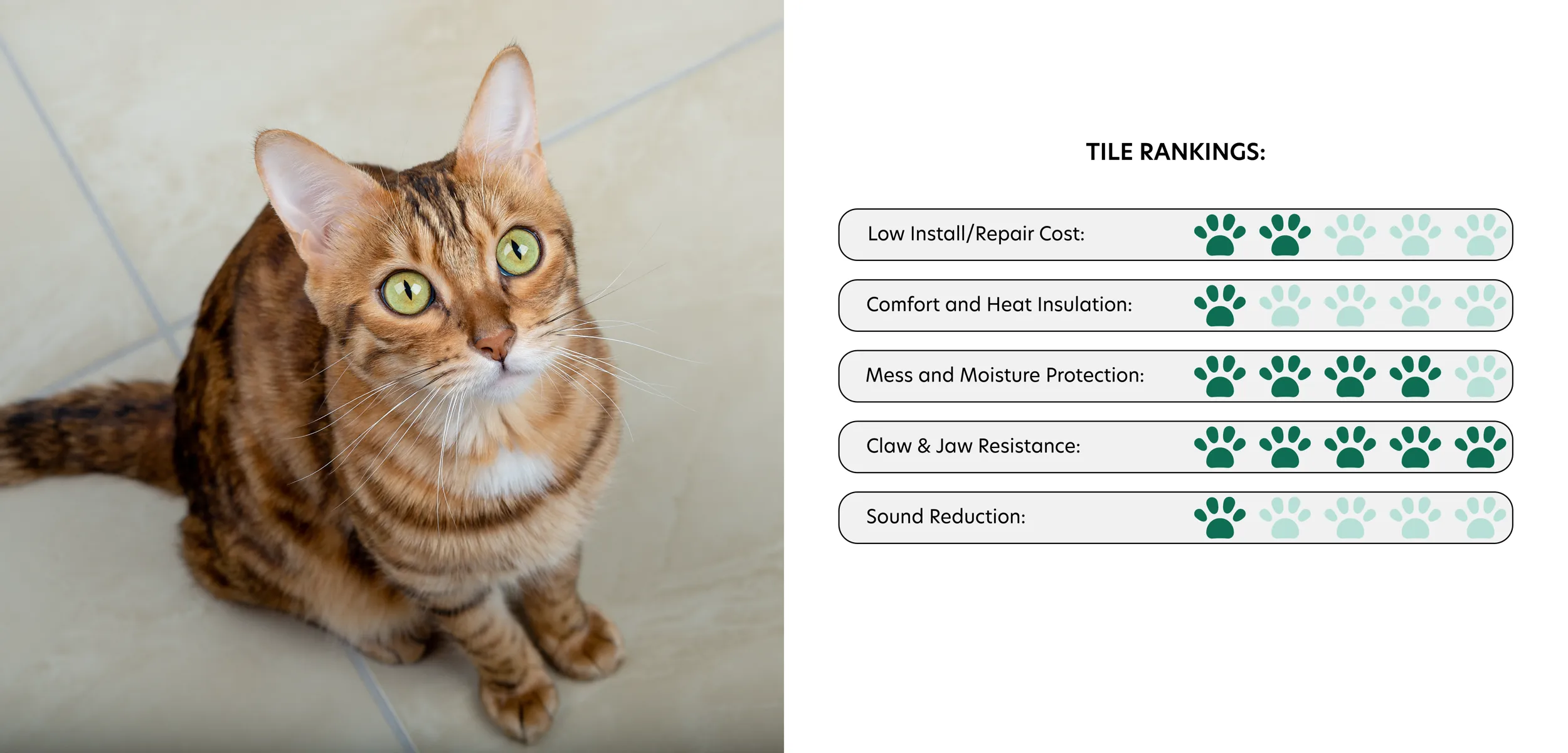 Cork
The main selling point of cork flooring is its natural cushion and sound reduction. However, it is susceptible to scratches, dents, and moisture damage. For these reasons, it is best to avoid cork flooring in the presence of pets.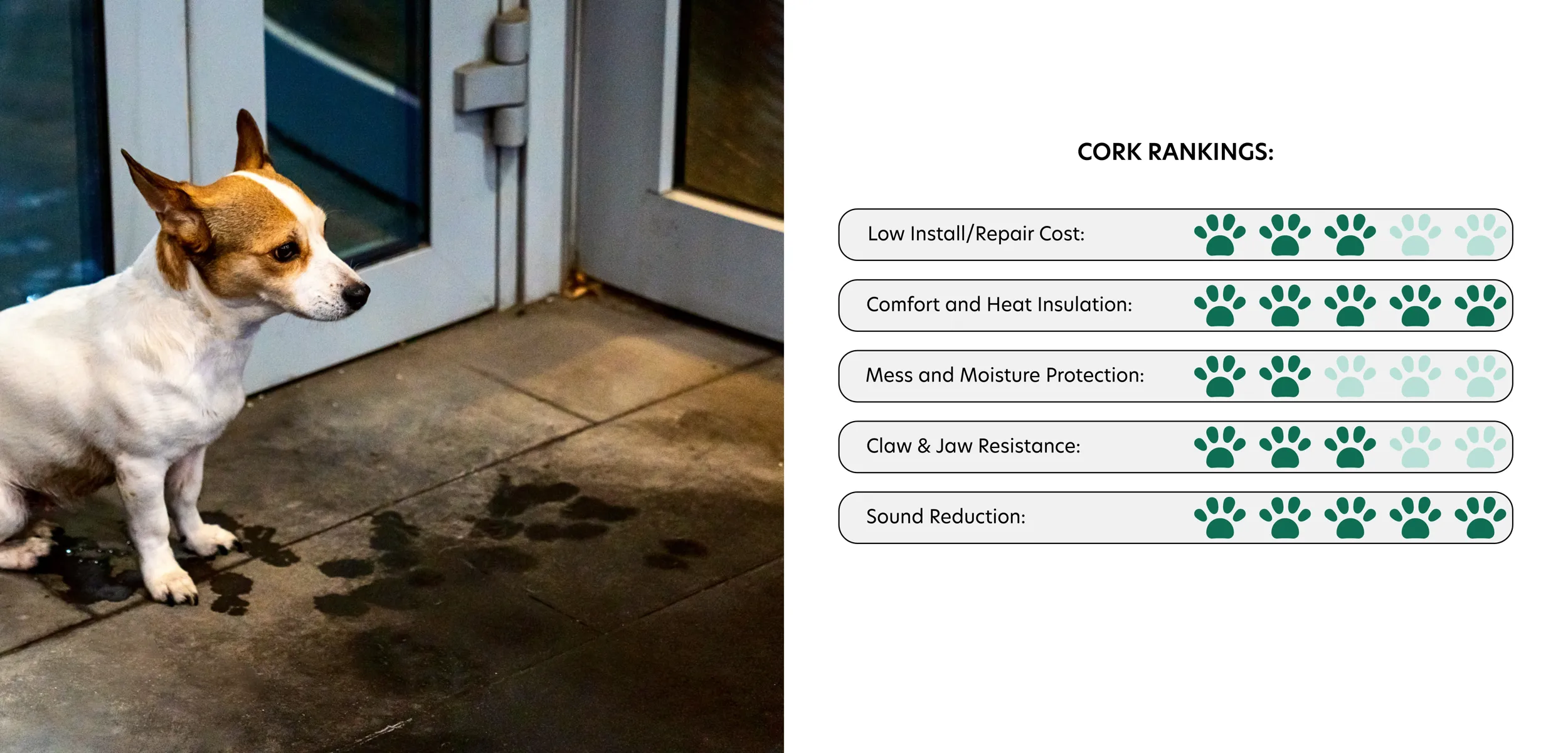 Laminate
Laminate is meant to closely resemble hardwood flooring and is a close competitor to LVP, but fails to match up with regard to water/mess resistance. LVP is completely waterproof, making it the superior choice for pet-resistant flooring.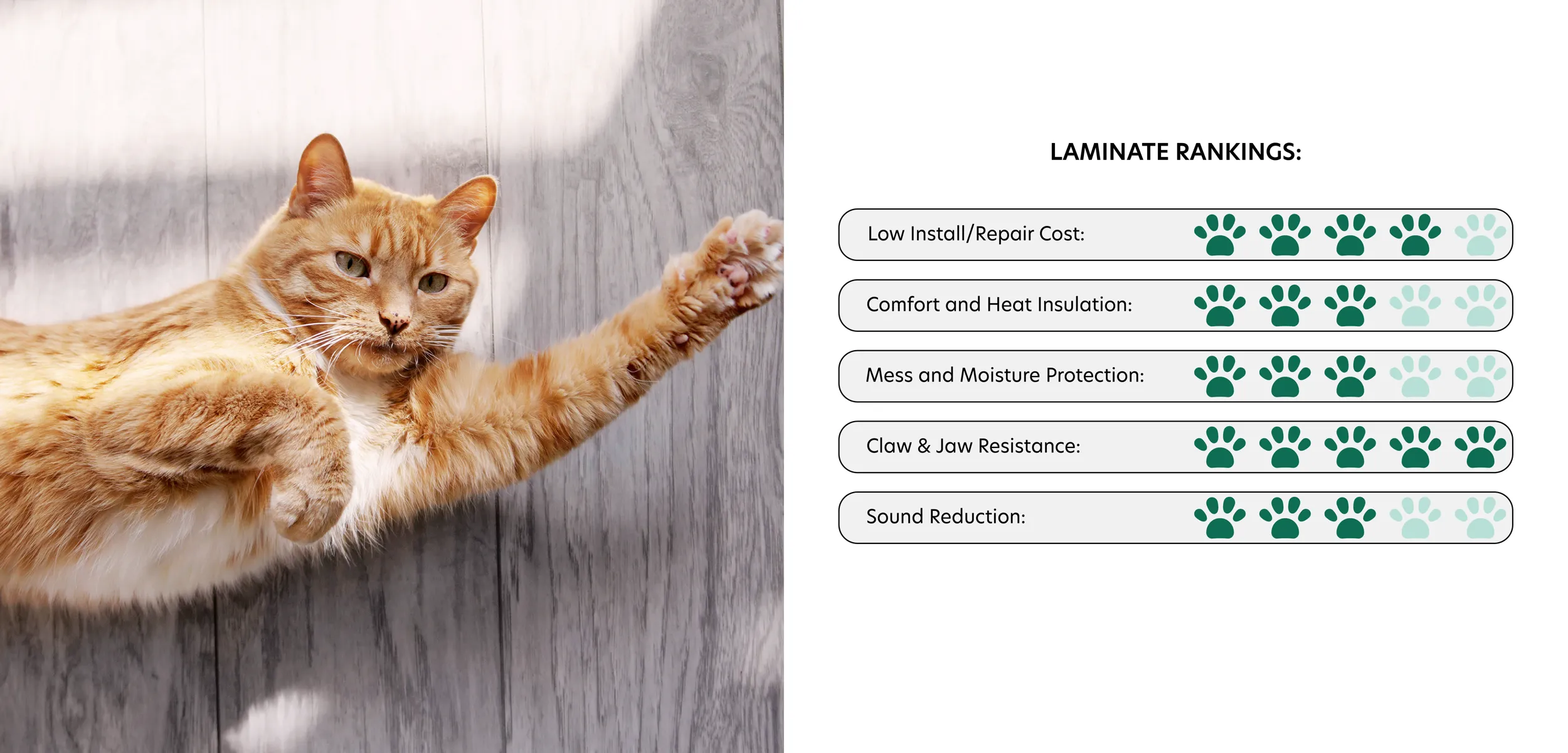 Solid Hardwood
Although beautiful, solid hardwood is one of the worst flooring options for pets. It can absorb liquid, resulting in permanent warping and stains. Depending on the kind of wood and finish, solid hardwood can also be very easy to damage. Don't let pets anywhere near solid hardwood flooring. Solid hardwood is also one of the worst options for sound reduction and should be avoided where noise transfer is a concern.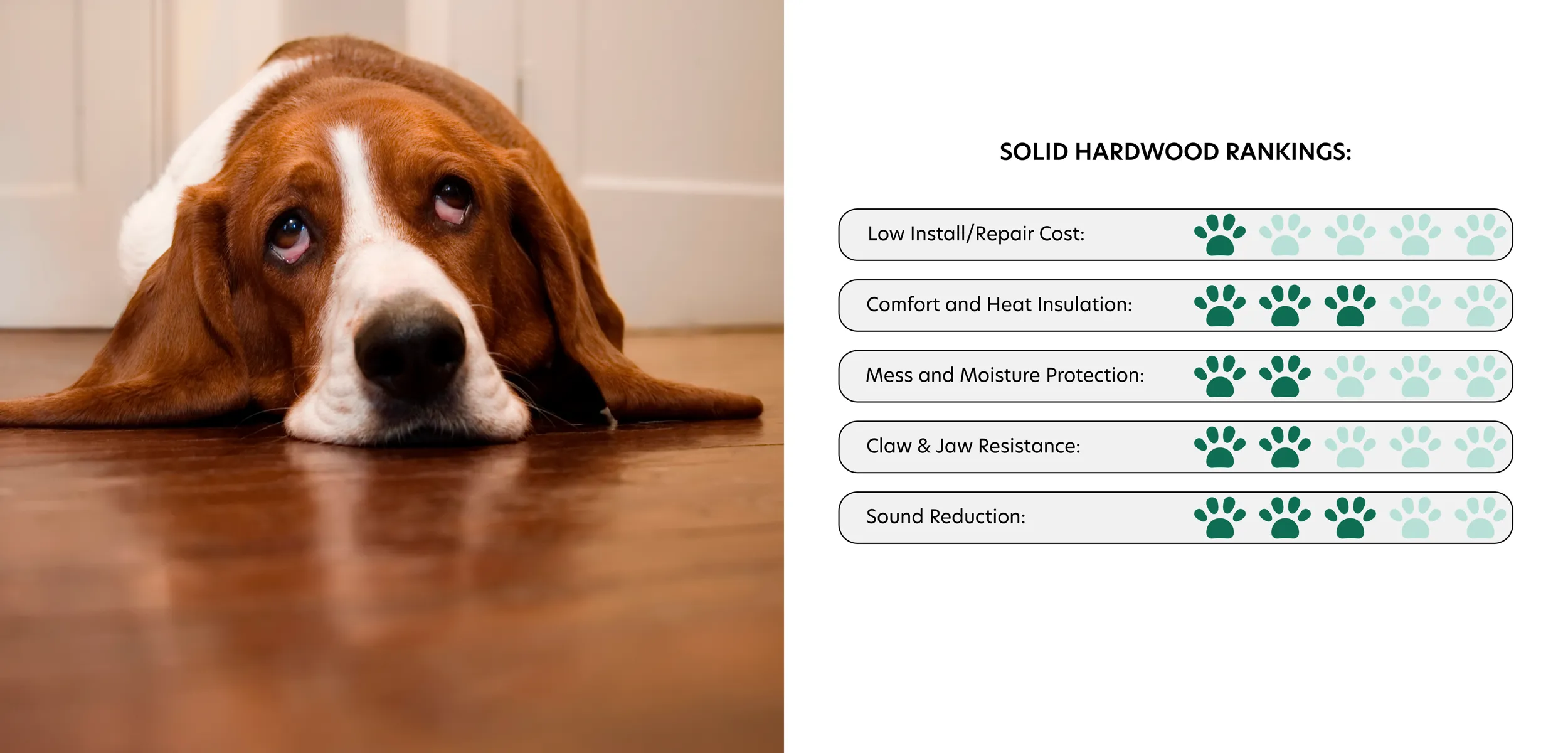 Engineered Hardwood
Engineered hardwood flooring is an attempt to keep the look of solid hardwood while making a more durable and water-resistant flooring. While it is mostly successful in that respect, it still suffers from similar problems to solid hardwood, just less so.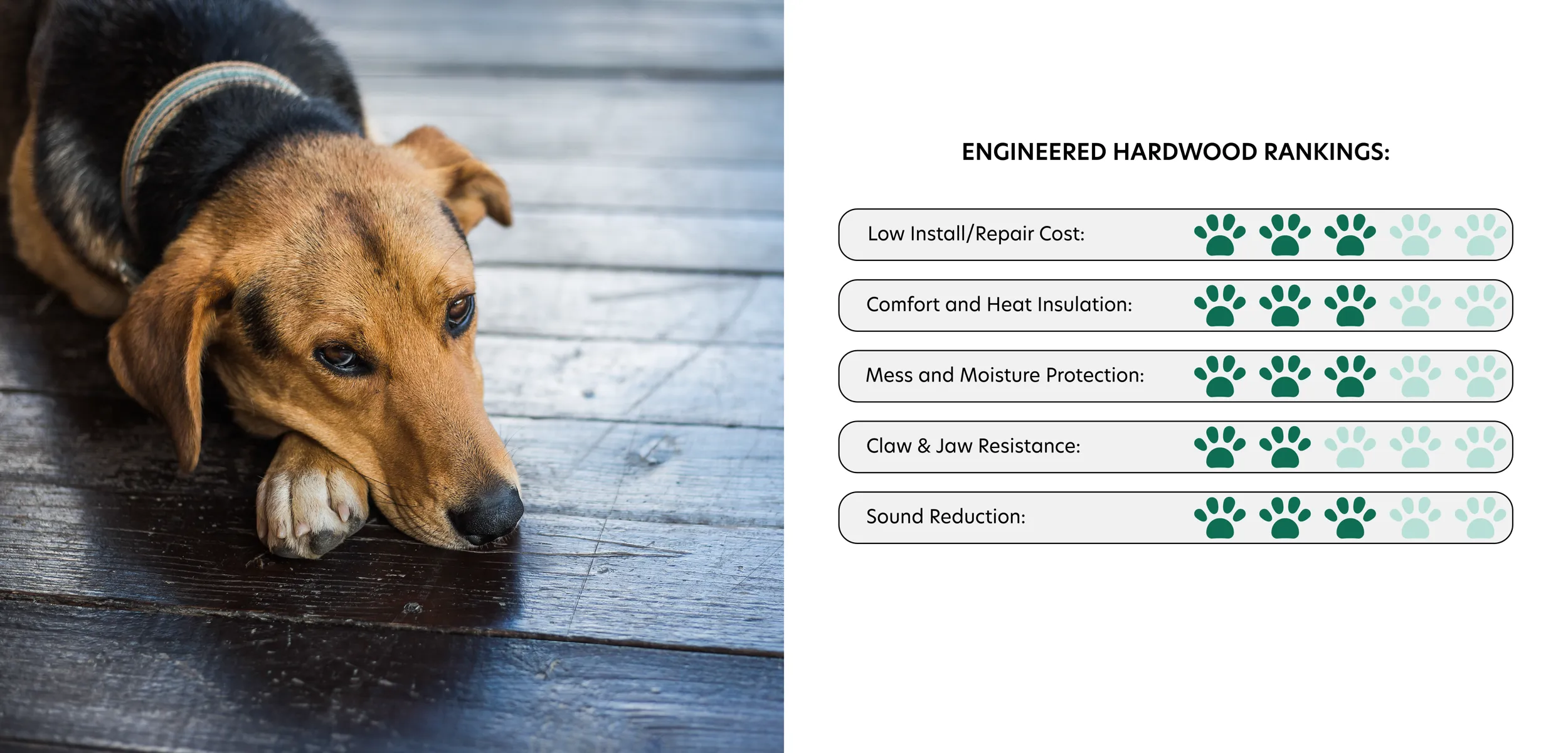 Bamboo
Bamboo flooring is similar to solid hardwood flooring, but when made properly, it is generally more durable and water resistant. As sustainable flooring options go, bamboo is a decent one, but its vulnerability to moisture and scratches makes it less than ideal for pets.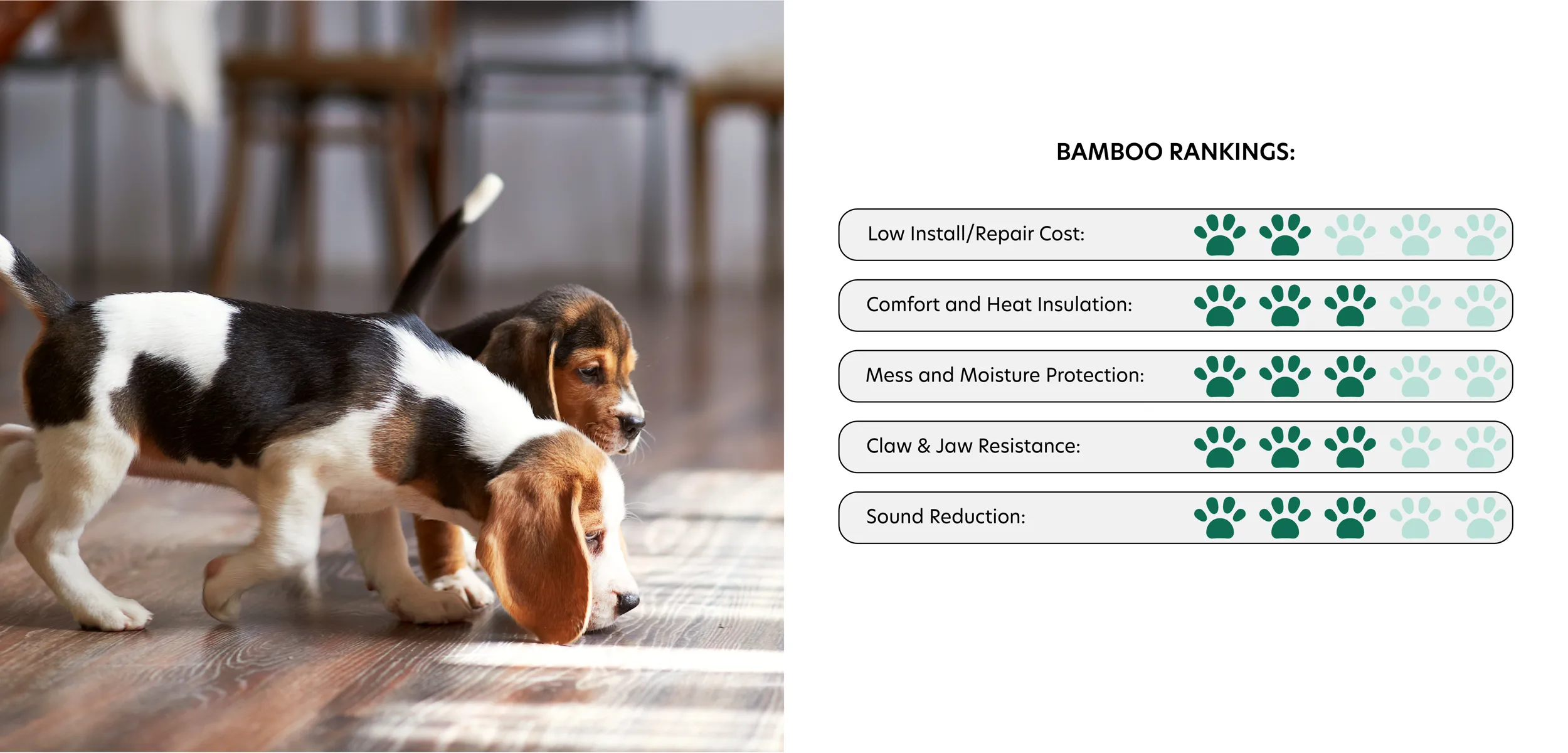 The Best Option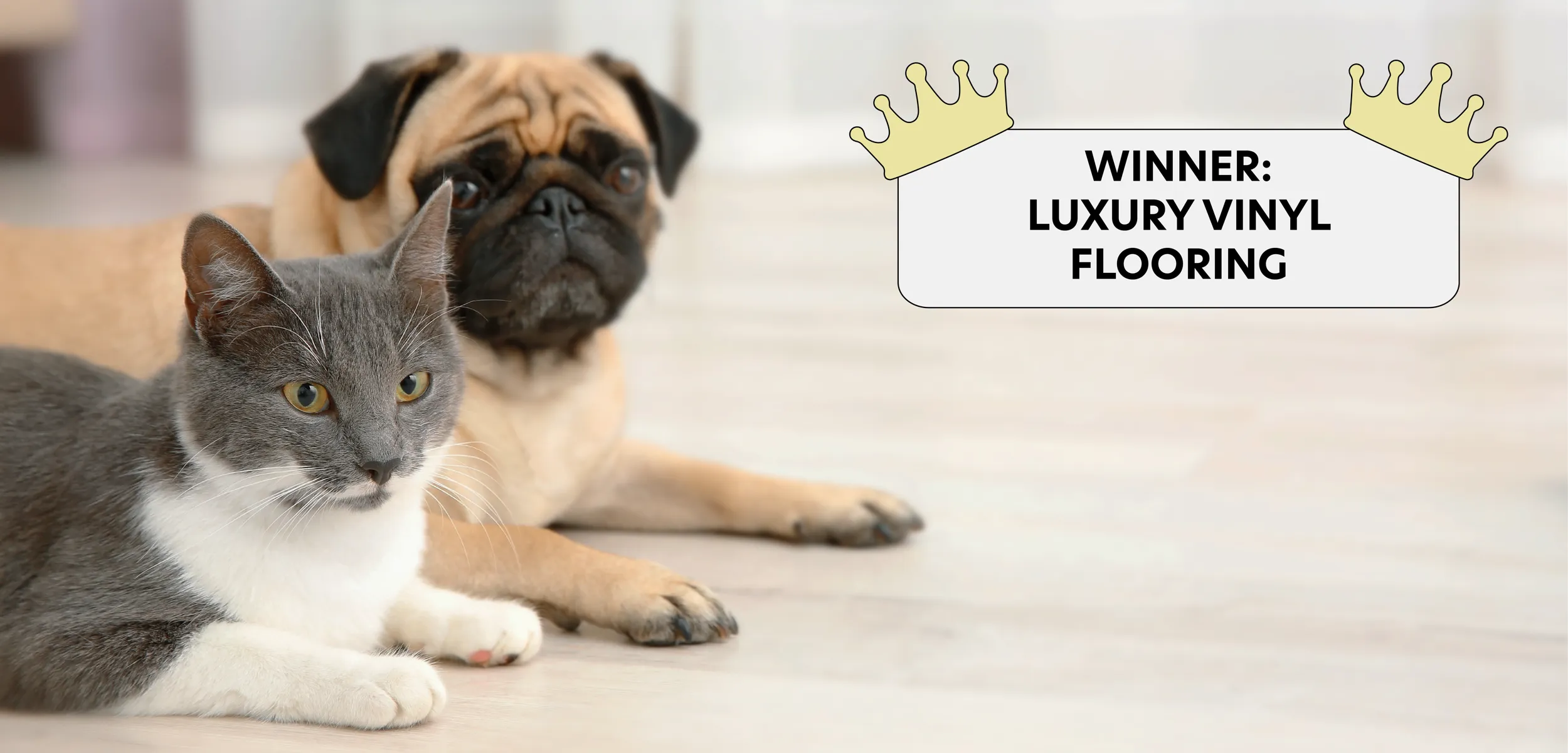 It's clear to see that LVP wins. When it comes to choosing the best flooring for pets, the flooring must be durable, waterproof, easy to clean, and noise-reducing. Urban Surfaces' LVP is all of those things while remaining affordable, attractive, and high-quality.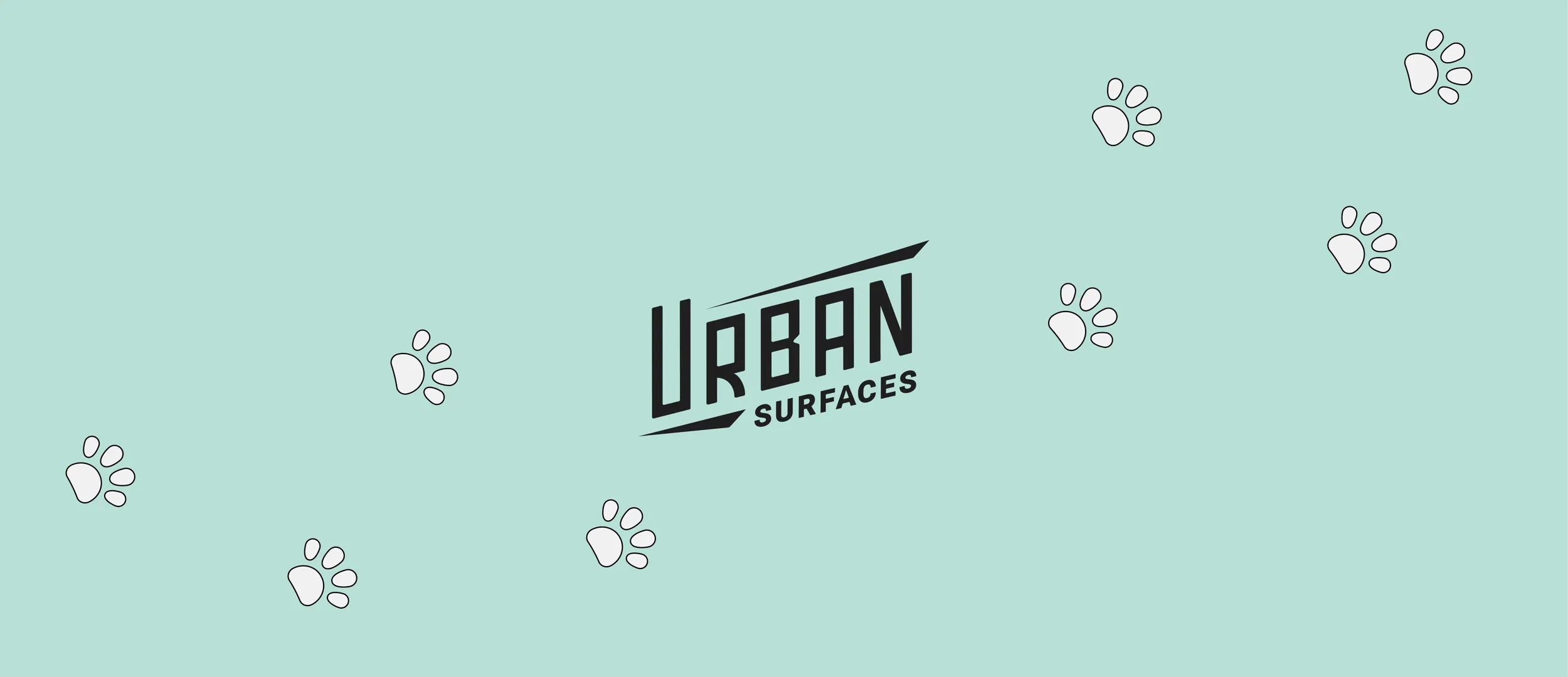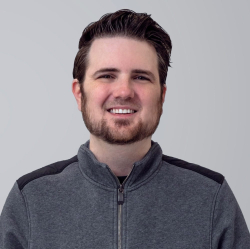 Latest posts by Adam Milecki
(see all)